(Press Release) JDS4 Reports Published: The Most Comprehensive River Survey in the World In Two Publications
VIENNA – 29 April 2021. Coordinated with the ICPDR, many hundreds of experts in the countries of the Danube River Basin as well as other actors engaged in the fourth Joint Danube Survey – JDS4 – in 2019 and 2020. The final results have now been published and made available to the public and scientific communities online.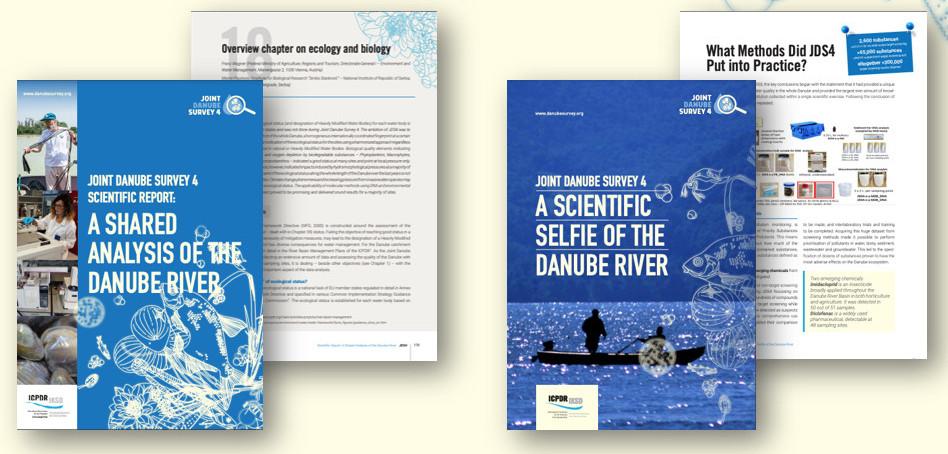 The Joint Danube Survey is the most comprehensive investigative surface water monitoring effort in the world, taking place once every six years.  
It harmonises water monitoring practices across the Danube countries, in support of the EU Water Framework Directive (WFD) to achieving good water status. Teams of international scientists travelled to monitoring stations and points in the Danube River Basin, to take samples and measure aspects of the river's status – from pollution and biodiversity to plastic and radiation levels.
The survey provides an up-to-date and comprehensive picture of the status of the Danube River Basin, including tributaries, surface water bodies, and groundwater alongside the Danube River.  
Download: JDS4 Public Report       Download: JDS4 Scientific Report       Download: JDS4 Press Pack
This time, JDS4 also provided an opportunity for a variety of new and groundbreaking techniques to get their major deployment in the Danube River Basin – including Environmental DNA (eDNA) and target & non-target screening methods.
The JDS4 results therefore give us a unique insight into the status of the Danube River Basin, including answers to such questions as:
How many chemical substances find their way into river waters?
How many fish live in the Danube River Basin?
How much microplastic finds its way into the Danube and its tributaries?
Are there really salmon in the Danube?
Similar to JDS3, the findings of JDS4 are supportive to the implementation of WFD providing an extensive homogeneous dataset acquired by WFD compliant methods. While these data have no ambition to replace the national data used for the assessment of the ecological and chemical status, they are an excellent reference database which can be used for WFD assessment methods harmonization throughout the Danube River Basin and for the new derivation and prioritization of the Danube River Basin Specific Pollutants.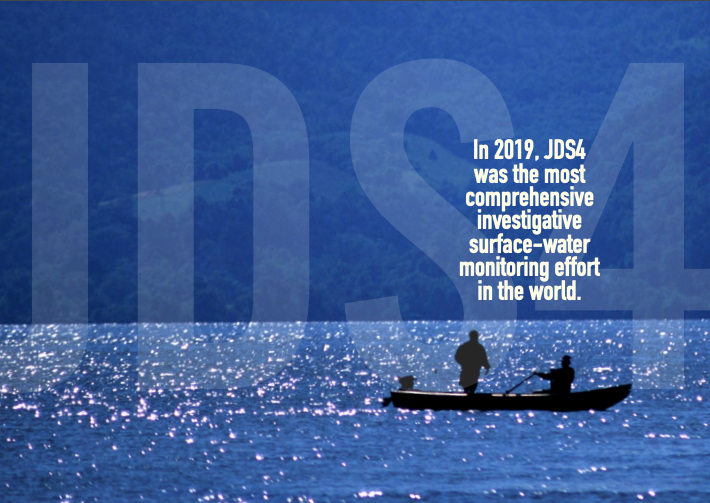 JDS4 has provided a great deal of added value to the current monitoring practices in the Danube River Basin, including:
Independent basin-wide platform for improving national surface water monitoring practices;
Practical joint testing and comparison of national methodologies for biological and hydromorphological quality elements leading to their future harmonization;
Interactive platform for hands-on training in sampling and assessment of biological quality elements;
A unique source of data for a number of quality elements (especially for emerging substances) for the whole Danube;
Knowledge transfer between EU and non-EU member states.
It's clear from JDS4 that many problems facing the Danube have been improving since JDS3. However, it's a multiple utilized ecosystem – and a lot of work remains to be done. Additionally, we monitored several factors for the very first time, such as microplastics or eDNA, so we won't be able to track the next stages of progress accurately until JDS5.
You can visit www.danubesurvey.org/jds4/publications to find out more about these important reports – or download them below!
*****
Contact
Hélène Masliah-Gilkarov
Public Participation & Communication
ICPDR Secretariat at UNOV
Telephone: (+43-1) 26060-4373
Fax: (+43-1) 26060-5895
Mobile: (+43 676) 845 200 220
E-mail: helene.masliah-gilkarov[at]icpdr.org
Web: www.icpdr.org