Danube Day 2016
Thirteen countries marked the 13th Danube Day: a superb celebration of the many ways that rivers enrich our lives. An estimated 25,000 people participated in 160 events. They cleared riversides marred by rubbish; competed in environmental, sport, art and culinary challenges; and contributed to sustainable development. Gifts of friendship were exchanged and beautiful cultural traditions shared. Overseen by the ICPDR, 400 organisations worked in partnership to forge a strong message of Danube solidarity, diversity and cooperation. It was a message extolled in six grand capitals, but also spread in rural riverside communities in the shadow of the Carpathians.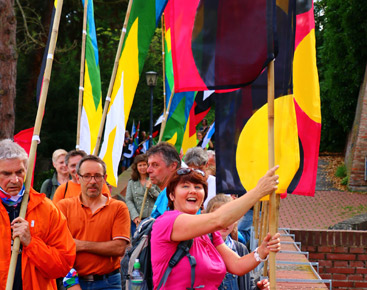 © Donaubüro Ulm/Neu-Ulm
GERMANY
2016's festivities spread to five towns. New ways to forecast, minimise and alert people to flood dangers were showcased in Ehingen. In Ulm, 650 hand-painted flags, created to signify Danube diversity, were paraded at the International Danube Festival. While in Bavaria, the Neuburg Auen Institute's tenth birthday party was combined with a triathlon and bank-side concert.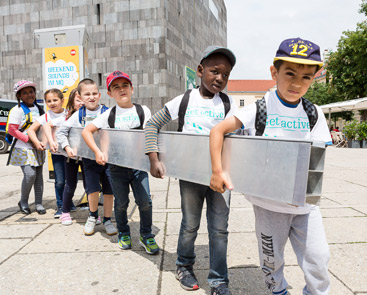 © Danube Day Austria
AUSTRIA
As the Danube came to the heart of Vienna, it secured a place in the hearts of a thousand children. The Museumsquartier was filled with interactive games, fascinating facts, climbing, competitions and children! Zooming around stalls, they solved problems, heard career advice, had close encounters with river critters and collected stamps to become Danube champions!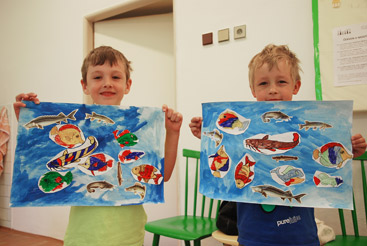 © Mostík Family Centre
CZECH REPUBLIC
A Morning of Water in Mosty u Jablunkova encouraged future guardians of the river to explore water through play. Children got active with fishing games, watery painting and taste-testing salt and fresh water at their own water bar!.
SLOVAKIA
Environment Minister László Sólymos opened a ministry fun day for 700 people with free boat trips, rescue demos, interactive science, music and dance in Bratislava. A mini zoo, water-sprite story-teller and awesome magic and bubble shows enthralled the youngest Danube fans! © Tomas Hajdin / VUVH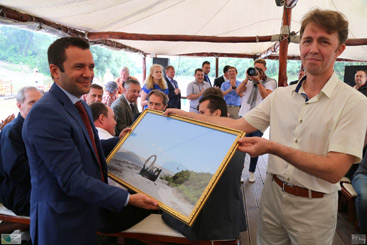 © Ministry of Rural Development
HUNGARY
Budapest, Tiszakóród, Dunaszeg, Gönyű and Lábatlan got active in 2016! Provincial and personal relations with Ukraine were strengthened at a historic joint Tisza festival. Handling river creatures was a highlight of a ministry-led day at Budapest Children's Island, where children released 300 sterlets and watched a fire-boat display. The Interior Ministry also held a conference and river tour.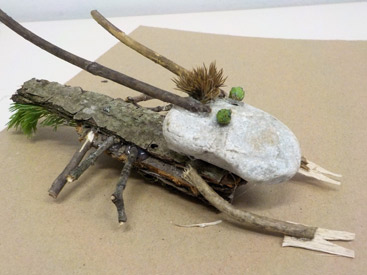 © Ministry of Environment and Spatial Planning
SLOVENIA
Danube determination came to the fore in ministry-run contests and a cycling tour-de-force! In the seventh Moja Reka, finalists mobilised 10,000 people to clear rubbish from 150km of shoreline. Impressive pedal power in the four-country Sava Cycling Tour saw it completed in just nine days. Some 176 children vied to be crowned Danube Art Master, won this year by Bistrica pri Tržiču Primary School.
CROATIA
Sustainable management was the priority for ministry, provincial and business leaders meeting in Osijek, where a public festival was also held. Water science road shows visited schools and events across Croatia and a Month of Rivers festival was held in Županja, Zagreb, Slavonski Brod and Sisak.
BOSNIA-HERZEGOVINA
The gruelling Sava Cycling Tour passed through Gradiška, Bardača, Brod, Odžak, Šamac and Brčko during the 870km endurance ride. Undertaken in cooperation with the Sava River Basin Commission, cyclists from every Sava country completed the challenge. Locals joined in part-way, adding to the Sava solidarity.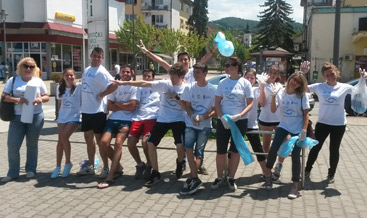 © Donji Milanovac Tourist Organisation
SERBIA
Exactly 13 towns celebrated the 13th Danube Day in Serbia! In Belgrade, eco workshops deepened children's knowledge of river issues. The Save the Danube Eco Camp engaged students in a week-long outdoor adventure, learning environmental science from national experts. Across northern and central Serbia, river outings, green actions, art, sport and contests enhanced Danube identity and understanding. © Donji Milanovac Tourist Organisation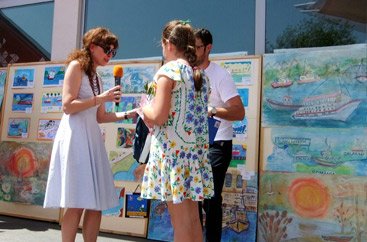 © WBA Jiu
ROMANIA
A Danube Month of festivities saw 4000 people celebrate their rivers in all 11 water basin administrations. Giurgiu hosted national festivities attended by the Minister of Environment, Waters and Forests. Across southern Romania, water testing workshops, field trips, recycling actions and other events nurtured curiosity and environmental commitment.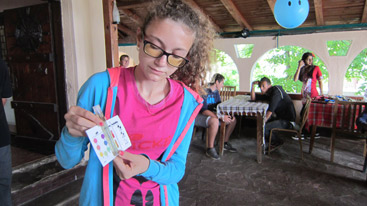 © Water Management Directorate
BULGARIA
Thousands in each Danube municipality enjoyed celebrations stretching a fortnight – from culinary and art contests in Belene, Ruse and Tutrakan to rubbish clearing in Lom; steamship trips in Kozloduy to water testing in Baykal. Many actions specifically engaged children: Svishtov pupils visited a treatment plant, Nikopol children adorned pavements with rainbow fish, and young Pleven artists decorated the River Basin Directorate.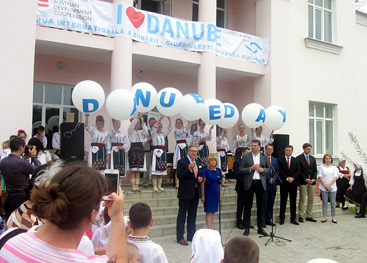 © Ecological Movement of Moldova
MOLDOVA
Addressing national and local authorities and NGOs in Cahul, the Regional Development Minister provided updates on the EU Danube Strategy, water and infrastructure initiatives and the proposed Biosphere Reserve. Djurdjulesti held its popular annual celebration of folk culture and Danube films were shown at summer youth camps.