ICPDR Presidency 2015 – finding basin-wide harmony through cooperation

ICPDR Presidency 2015 – finding basin-wide harmony through cooperation
Following a ceremonial passing of a bottle with Danube water at the 17th Ordinary Meeting of the ICPDR last December, the Republic of Croatia has taken over the ICPDR Presidency for 2015.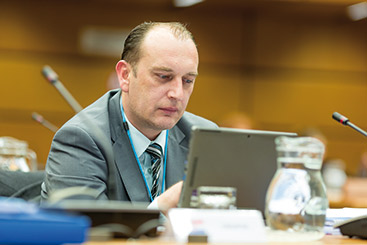 © ICPDR/Schedl
Dražen Kurečić, Assistant Minister of Agriculture for the Republic of Croatia and ICP DR President for 2015, speaks about
the challenges of harmonizing national and EU legislation and the value, for individual countries, of working together.
Danube Watch: What are your priorities for the Croatian ICP DR presidency?
Kurečić: In a last couple of decades we have witnessed the severe impact of climate change manifested in frequent occurrence of extreme draughts and floods, not only in the Danube Basin but also in other parts of Europe and around the world. Floods on the Sava River in May of 2014 caused enormous material damage and loss of human lives in three countries. This event was by all means beyond 'regular' flood scenarios: extreme rainfalls, outstanding water levels (1000-year levels). It clearly confirmed what was stated in the ICPDR Ministerial Meeting Declaration from 2010 that flood prevention and protection are not short term tasks but permanent responsibilities of the highest priority. Therefore, flood issues are a priority for the Croatian ICPDR presidency, as well as finalising two key plans for the next six year period: the Danube River Basin Management Plan and Danube Flood Risk Management Plan.
Danube Watch: When the Danube River Protection Convention was signed in 1994, Germany was the only contracting party that was a member of the European Community – now eight of 14 ICP DR countries are also EU Member States. What has changed for the water sector in Croatia since joining the EU in 2013?
Kurečić: The biggest change has occurred in legislation – harmonising national water management legislation to EU legislation. Croatia had prepared its first river basin management plan before entering the EU. By participating in ICPDR Expert and Task Groups together with experts from both EU Member and non Member States, Croatian experts gained valuable knowledge and experience, which was useful in preparing the national river basin management plan.
However, EU accession also pushed us strongly toward reform of the water-utility sector and Croatia is making great progress in improving the quality of water services and infrastructure. Some of the heaviest financial burden concerns the implementation of the EU Urban Waste Water Directive and the Drinking Water Directive, which require activities such as constructing water utility infrastructure, water supply and sewage systems as well as waste water treatment plants – with investments of 4.5 billion Euros by 2023. Several significant water infrastructure projects are already finished or in progress, financed from national and EU funds.
These activities mean more advanced treatment of waste water and fewer loads for the Danube River, which is vital since the Republic of Croatia has declared the Danube River Basin a sensitive area. By implementing these directives in all Danube countries we can achieve our common goal of ensuring a good status for the waters in the river basin.
Danube Watch: How do you coordinate your involvement as a member of both the ICP DR and the International Sava River Basin Commission (ISRBC)?
Kurečić: Cooperation with ISRBC and ICPDR is very significant for the Republic of Croatia to preserve both of these important natural resources. The ICPDR is special to us as we appreciate the opportunities we were given through participation in the work of the ICPDR before we were an EU Member State. At the same time, ISRBC – the parties of which are also members of the ICPDR – brings us together with our neighbouring countries and is a unique synergy of water management and navigation issues. The ICPDR provides enough flexibility for ISRBC to act in a more detailed way on a smaller scale.
So far the coordination of activities between these two commissions has been going very well. Experts in the ICPDR Expert and Task Groups are involved in similar activities within the ISRBC preparation of river basin management plans and flood risk management plans, for example. Likewise, the Joint Statement on Guiding Principles for Development of Inland Navigation and Environmental Protection in the Danube River Basin is an excellent example of cooperation between the two commissions, together with the Danube Commission.
Due to the transboundary character of the Danube and Sava Rivers, both the ICPDR and ISRBC are perfect platforms for preparation and coordination at different scales, and there is a benefit for all contracting parties.
Danube Watch: How does ICP DR membership help countries prioritise transboundary water cooperation initiatives when facing times of economic austerity?
Kurečić: It is true that many Danube Basin countries are facing financial and staff shortages due to the economic crisis – the Republic of Croatia is experiencing this as well. It gives us a clear signal that we have to stick together but also to slightly expand our focus from the primary goal of protecting the Danube River to also helping economic growth in the Danube River Basin. Every contracting party has its own reasons for being part of the ICPDR family. Preaccession countries active in ICPDR Expert and Task groups can profit from the knowledge and experience of other EU Member States which have gone through this process before. EU Member States also have clear priorities, which are part of their accession agreements and obligations concerning EU water legislation, especially the EU Water Framework Directive.
It is undeniable that shared projects are of the utmost importance and that the results of these projects bring basin-wide benefits which could not otherwise be realised. This for me is the true value of being part of the ICPDR family.
Dražen Kurečić
---
1994 – 1999
University of Agriculture, Croatia, Master of Science, Agriculture-Melioration
Jan 2012 – present
Ministry of Agriculture, Republic of Croatia
Assistant Minister
Dec 2002 – Jan 2012
Croatian Waters
Independent Engineer
Nov 2002 – Dec 2002
Megawat d.o.o.
Designer – Head of Marketing
May 2002 – Oct 2002
Migić d.o.o.
Designer – Head of Marketing
Sep 2000 – Feb 2002
Brana d.o.o.
Probationer Designer
Oct 1999 – July 2000
Megawat d.o.o.
Designer – Head of Marketing
Next: Governing water – preventing conflicts: the OSCE promotes water governance