Danube Watch 3/2021 - Danube Watched
Danube Watch 3/2021 - Danube Watched

Danube Watched

Three Decades of Reporting on the Danube River Basin
Since 1994, Danube Watch has been putting news from around the Danube River Basin down onto paper three or four times a year. Leafing through hundreds of pages in the archive, it can seem both as if so much has changed and so very little all at once. "More Money For Pollution Reduction" blares the headline across page 3 of the first Danube Watch printed in 1999, with the following pages detailing projects to restore floodplains in the Danube River Basin, strategies to protect groundwater, and a mission to improve water infrastructure in Bucharest. While tremendous progress has been made since – Romania has certainly made improvements to its water infrastructure it must be said – many of the same topics remain priorities to this day. We seek to reconnect floodplains, and reduce pollution, to protect the groundwater that provides so much in our river basin. The scale, however, and the ambition, have grown.

As both the most international river basin in the world and home to some 79 million people, the Danube River Basin is always going to be bursting with stories to be told. With regards to river basin management too, the ICPDR is a trend-setter around the world, with the achievements in the Danube River Basin providing inspiration for generations of water resource managers.

Danube Watch is therefore ready and proud to be facing firmly towards the future, and taking the step to go paperless. By evolving into a new and purely digital form, Danube Watch can be more nimble and dynamic than ever.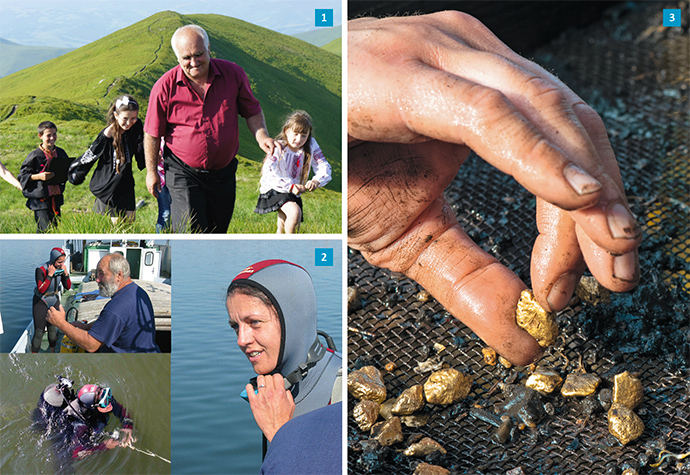 Highwater Marks: Highlights

The importance of preserving and continuing Danube Watch beyond its third decade of activity is a no-brainer when one takes into account the connectivity and expertise it puts under one roof. The pages of this magazine have offered a catalyst for conversation between a multitude of partners and voices from throughout the Danube region, including exceptional individuals, landmark EU-funded projects, ground-breaking private-public collaborations, and thousands upon thousands of schoolchildren participating in well over a dozen years of Danube Day celebrations from the Black Forest to the Black Sea. The mission of Danube Watch goes beyond simply science communication and public outreach, bringing together disparate facets of our culturally and biologically diverse shared basin.

Interview with Vasyl Gubal, Mayor of Kvasovo village in Ukraine
(Danube Watch 2/2017)
One of our long-running People of the Danube articles focusing on extraordinary Danubians, this interview with the mayor of a small village in Ukraine has long been a favourite. At the time, Mr. Gubal was taking vital steps to upgrade the wastewater treatment in his village of 900 inhabitants, and to clean-up the local waters of the Borzhava River. bit.ly/DW2-2017

Rediscovering Trajan's bridge over the Danube
(Danube Watch 2/2018)
One of the many DW articles exploring the Danube's fascinating shared ancient history, this one takes a look at the legacy of Roman Emperor Trajan (53-117 AD), remembered as a successful soldier-emperor who presided over the greatest military expansion in Roman history – and for the construction of the first ever bridge to span the Lower Danube! bit.ly/DW2-2018

Gold Panning in the Danube
(Danube Watch 2/2020)
It was during JDS4 that the topic of gold in the Danube River first piqued our fascination for DW. The topic conjures images of prospectors in the old American West – but there are those who sift through the waters of Central and Eastern Europe to this day. Who knew? bit.ly/DW2-2020

A Letter from Ban Ki-moon
(Danube Watch 3/2013)
A clear highlight to have had some words lent to the pages of our magazine by the United Nations Secretary-General himself back in 2013, a tenure that, in hindsight, set much of the sustainable agenda leading our activity today. bit.ly/DW3-2013

An Interview with Guangzhe Chen from the World Bank
(Danube Watch 3/2017)
Sustainable development for water resources needs sustainable financing! And who better to fill us in on the details than Guangzhe Chen, Senior Director for the Water Global Practice (GP) within the Sustainable Development Vice-Presidency at the World Bank Group. bit.ly/DW3-2017

A Favourite Cover Image
(Danube Watch 3/2018)
This striking image is a true favourite, showing firstly the impressive beauty of the Danube's pelicans and the 0 km marking at the start of the river at the Danube Delta. bit.ly/3v2h6lq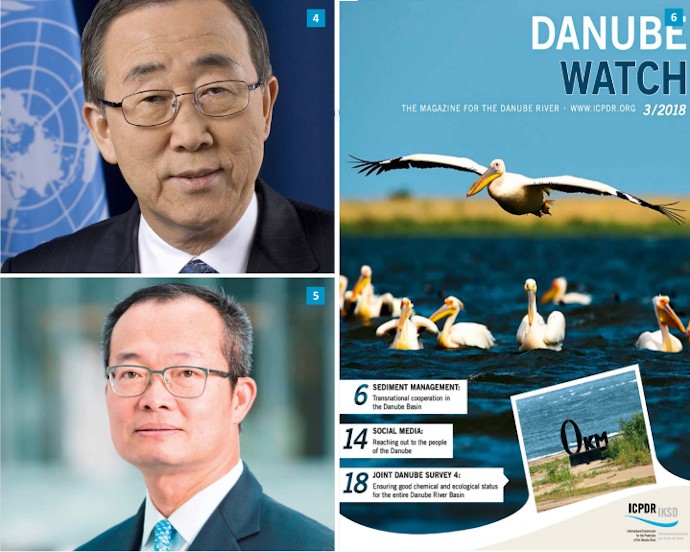 Danube Watch Editors Say Farewell to Print on the
Danube River Basin
Hélène Masliah-Gilkarov (2016 – )
Gold diggers in the river, public participation, national park rangers, JDS4, "Deep Freeze On the Danube"…look at all the memories we've covered in the past 6 years! Since handling the position of Editor for Danube Watch – taking over from my colleague Benedikt – it's been a roller coaster ride. The thing about editing this magazine, is that one certainly never runs out of topics to cover and material to publish. Over and over again we find ourselves having to trim down and choose between fascinating topics, as we're so very lucky to have such a wealth of diverse expertise to cover.

In any case, our storytelling goes on, moving with the new wave of digitalized news. The paper aspect was incredibly important throughout this magazine's history, helping us to reach our readers from Romania all the way to California. They've received their own Danube Watch on their doorstep every few months, keeping them in the flow of this unique river's waters.

With our digital revival, new adventures will follow, and new intriguing headlines will pique your interest. New generations will discover Danube Watch, while faithful readers will stay with us on this journey into a different format.

Your collaboration, dear reader, remains important to us whatever the format, so please email with any stories you think will fit into our new, yet trusted online newsletter cerff@vpcqe.betgro.rdpci@sserp . So long, paper Danube Watch, see you in a while crocodile (hopefully not in the Danube though!)

Benedikt Mandl (2010 – 2016)
I am a biologist, so when I took up the position with the ICPDR Secretariat, I perceived the Danube and its tributaries almost exclusively as ecosystems. But of course, rivers also have a social dimension. As executive editor of Danube Watch, I immediately realized that the publication is mostly an echo of this social aspect and I felt great respect for this.

Taking over from Jasmine in 2010, I was also very lucky – under her guidance, Danube Watch had developed from a grassroots-NGO newsletter to a professionally produced magazine with an edition of over 20,000 copies and an almost global readership. I simply had to work towards maintaining the high standard for the next six years. Hard work for Jasmine, easy-peasy for me; I just hope I could pass on "DW" to Hélène in reasonably good shape.

But I don't mind that the print production is coming to an end; media change and the fundamental mission of Danube Watch as the marketplace of the Danube River Basin will flourish in other channels. In this spirit: so long, Danube Watch – and thanks for all the fish!

Paul Csagoly (2008)
We've always loved the feel of the Danube's waters. My father rowed the Danube in his youth near Budapest. Living in Vienna, on the way home from work at the UN building, I'd rollerblade home and stop and swim across the Danube en route. And then there's wonderful Lake Balaton.

Some of us older generation types like the feel of paper. Magazine, book or newspaper, reading on the porch, beach or in the bath.

The paper Danube Watch had a nice mix of water stories. It was a good tool to make people aware of the marvelous scale and diversity of the basin.

I still tell people about how successful the basin is - its convention, secretariat, research, cooperation, and ability to unite so many countries around a common interest, in a world where international cooperation risks breaking down.

It's hard to gauge how many people read Danube Watch. Subscription was free. But if it goes online, you'll be able to better gauge who is reading what, tailor content, and make it more interactive. I hope it stays around.

Jasmine Bachmann (2002 – 2010)
Danube Watch – 30 years!?
I hardly believe it. When I started to work for the WWF Danube Programme back in 1998, Danube Watch was already seen as the "Magazine for the Danube Basin". It was packed with scientific and technical information – sometimes a bit hard to read though.

Starting my duties at the ICPDR in 2002, Tony Hare, an excellent communication consultant, outlined the goal clearly: "No brown paper boxes stored under desks". What Tony meant, is that the magazine needs to reach its potential readers and that it should provide more than figures and graphs. So, we transformed Danube Watch into a more colourful magazine, which is telling stories, connecting people and providing a forum where objective reporting is mixed with subjective opinions.

This approach has been successful, underlined by the fact that Danube Watch is still alive – and will start a new career as an online magazine!

By doing so, Danube Watch continues being a glue between individuals, organisations and countries. Now needed more than ever.