Danube Day 2011: action on the rivers and online!

Danube Day 2011: action on the rivers and online!
Mix together 14 countries, nearly 83 million people, 30 major rivers and countless tributaries. Throw in a huge dollop of energy, enthusiasm and creativity and a few dozen buckets of fish soup. The result... Danube Day 2011!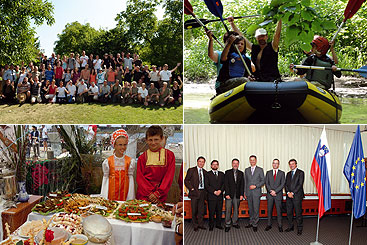 We got active on the water, in the air, on the earth… and with the odd firework or two! (Clockwise from top left) Government, civil society and business joined forces. Czech Art Masters celebrate their win with a river safari thanks to the Union for the Morava River. Austria's Transport Minister, Environment Ministry Secretary General and City Environment Councillor joined in at the Employees Volunteers Day at Donau Auen. Presenting awards at Slovenia's Art Master final: Secretary of the Sava Commission, Water Director in the Ministry of the Environment, Director of the Institute for Waters, Minister of Education and Sport, Managing Director of Coca-Cola HBC Slovenia and ICPDR
Executive Secretary. The 3rd Danube Gastronomy Festival in Sulina was organised by the Save the Danube and Delta Association. The 'Danube United' flag is a symbol of strong regional cooperation: 2011 saw it pass from Romania to Hungary. Class 4a from BRG Krems (Lower Austria) and pupils from Schruns-Dorf High School (Vorarlberg) rose to the 'Danube Challenge'. MOME University, WWF Hungary, the ICPDR and Coca-Cola collaborated on the Danube Trams campaign in Budapest.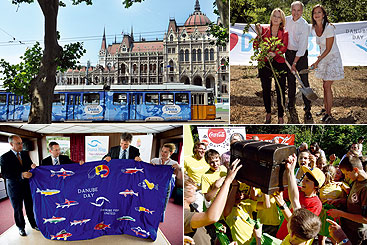 Danube fever struck on June 29 with the 8th annual Danube Day. It was an immense occasion: 721 partners and 440 schools got involved in 210 events. Overseen by the ICPDR, festivities stretched along the Danube Rivers in 14 countries, six capitals and hundreds of towns.
Danube Day fluttered in the wind on the 'Danube United' flag, was carried in the words of ministers as they opened festivities, was brought to life in the exertion of volunteers clearing rubbish and in the spirit of those working on a better future. It was set into stone in a Tisza tribute and provided inspiration through photographs in Slovenia. Its influence grew in the hearts and minds of children striving to be 'Art Masters' and could be heard in the laughter of thousands as they joined in Danube Day fun.
Spreading the message deeper and wider. Actions maximised outreach and impact, deepening people's connection with rivers and ensuring long-lasting influence. Just one 'Danube Day' was insufficient to contain all the events, enthusiasm and energy. In Budapest, they celebrated 'Danube Month' and some countries hosted a summer of activities. Serbian events stretched from June to September: 100 events were planned by 300 organisations in 25 locations!
Actions with repeated exposure were effective, such as the blue 'Danube Trams' in June. Impossible to miss, they featured logos and environmental messages. Passing the Parliament, MPs were among the 200,000 passengers that saw them everyday. In the Delta, clean-up actions were publicised to thousands in Ukraine. Every Danube district and 200 organisations marked the day in Romania, and over 30 events were held in seven Bulgarian provinces. With many now in their eighth year, events reinforced communities' Danube identity.
On the rivers and online. 2011 saw more websites, YouTube postings and Facebook pages than ever before. Encouraging ongoing engagement, they created a dialogue and involved people. Austria used technology to ensure benefits long after 29 June and, in doing so, reached tens of thousands. By scanning the Vienna guide to the best Danube spots with a phone, you can gain details on each one. The new website is a one-stop shop for year-round events. Navigate the river in an online game, post photos or join in on Facebook. On Serbia's site, you were the judge, voting for your favourite 'Art Master'. Other sites were set up in Hungary, Croatia and Bulgaria; the latter saw WWF DCP and Coca-Cola launch 'Danube+', a new way to learn about the river. "The momentum we can see today will be lasting and will benefit future Danube Days as well as other activities of the ICPDR," said Philip Weller, Executive Secretary of the ICPDR.
Engaging future decision-makers. Youth adventure came via the 5th 'Danube Challenge'. Some 400 Austrians competed in tests of nerve and skill while gaining new awareness and enthusiasm for the water environment, which could not have been realised through the classroom.
"The Danube Challenge uniquely combines adventure, experience and knowledge with the important issue of water," said Nikolaus Berlakovich, Austrian Minister for the Environment. "This project is one of the most successful youth targeted actions undertaken by my Department." For more information on the Danube Challenge, see article page 16.
Danube solidarity flows through the air. We looked to the skies as international harmony was celebrated in the air. At 4:00pm, blue balloons, each carrying a child's wish, filled the sky in five countries. The first 'Danube Dreams' release encouraged people to look beyond national boundaries and consider the multitude of people living in the Basin. Some 700 Ulm residents in Germany, along with crowds in Croatia, Serbia, Romania and Bulgaria, watched as the balloons floated away across the Basin.
Making a difference on the land. More than 600 young Ukrainians collected rubbish in Izmail in actions led by NGOs. At Lake Srebarna, Bulgarians cleared litter from the UNESCO site, while 1600m up in the Carpathian Mountains where the Tisza emerges from the land, the five Tisza countries marked their outstanding regional collaboration by unveiling plaques. In Belgrade, the river came to the land: a blue swathe was painted onto the tarmac at the Republic Directorate for Water and Coca-Cola event.
Introducing the danube strategy. The day provided a forum to welcome and debate implementation of the EU Strategy for the Danube River. Pupils from Gheorghe Munteanu Murgoci College informed the Romanian public about the Strategy, and at the Budapest 'Young Citizens Danube Network Conference', the Strategy guided the debate while teenagers discussed it with officials at the 'Izmail Youth Ecoforum'.
Fostering inquiry, learning and consideration. Festivals in Baden Württemberg and Győr brought ecology to life: 1500 people had the chance to pond-dip, analyse water and use microscopes. At Gabčíkovo, people toured Slovakia's largest hydropower plant and wetlands. Raising basin-wide awareness featured at the Ministry's celebration, where children (including guests from Kolontar) collected stamps in a Danube passport.
Serbia held the fifth 'Student Eco Camp' and launched its adaptation of the 'Danube Box' education kit. Czech versions were distributed and teachers from seven countries shared experiences at the first 'International Danube Box Workshop' in Hungary. Their Danube Box competition, involving 400 schools, went international for the first time.
Celebrating danube cultures. Maintaining culture was central: from craftspeople utilising reeds to the sound of traditional music. In Bavaria, we became Romans on the 'Regina' galley. In Sulina, visitors marvelled at wildlife in restored areas and tempted their taste-buds at Romania's 'Festival of Danube Gastronomy'. Fish delicacies were on show and top chefs won grants for their communities. In Ukraine, 300 enjoyed the 'Tisza – Younger Sister of the Danube Festival', packed with contests and green actions. Young talent took centre-stage: "Let the Danube live forever!" sang the 'Tisza Has Talent' winners.
The ICPDR would like to thank the organisations involved in Danube Day 2011. For full details of events and partners, please visit: www.danubeday.org.
Suzie Holt lives in Devon, UK, and is a writer on environmental issues. She has been involved in Danube Day since its start in 2004 and prior to that worked for WWF on the Carpathian Ecoregion Initiative.
The 8Th daNube aRT MasTeR coMPeTITIoN
---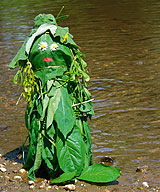 CZ: Art Master Water Sprite.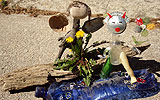 HU: 'Joint Angel and Devil' by Vera Rapp came first out of 253 entrants in Hungary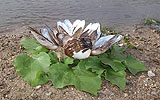 MD: Mariana Tertea and Daniela Plosnita from Orhei won with 'Once Upon a Time... The Lily from the Story'.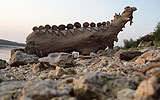 BG: 'Monster Nessy from the Danube River' by Anna-Maria Tsaneva, Ivet Valentinova, Sofi Toncheva and Gabriela Ivanova from Marten on the Danube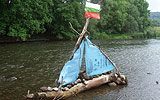 BG: 'Sailboat' by Miroslav Ilianov from Probuda Community Hall, JoglavVillage.
From 14 Danube countries, 16,000 children entered the basin-wide contest for Danube Day. This artistic extravaganza allowed children to express how they felt about their river. From Germany to Bulgaria, Montenegro to Moldova, their messages of environmental consciousness, basin-wide friendship or a simple recognition of the beauty of rivers were inspirational.
Overseen by new coordinators, Global Water Partnership, 14,000 drawings and nearly 1000 sculptures were made. The huge response was the result in large part of Austria's successful Environment Ministry and Coca-Cola 'Trinkpass' action. Young Moravians went Art Master crazy with 720 entrants from a record 54 Czech schools. Creativity bloomed in Slovenia, where three national contests challenged children to become art masters, water detectives and photo journalists. In Ukraine, the Prut, Tisza and Delta regions held a joint competition for the first time. National winners from each country now go on to the international final in Budapest to find out who will be crowned 'International Danube Art Master for 2011'.
"We congratulate the children who have shown, with considerable imagination and creativity, that the treasures of nature must be protected against abuse and destruction," said Brigitta Brunner, Oberpfalz District President at Germany's Art Master final.
Winning pieces in Bosnia, Moldova and Montenegro embodied the environment: trees, flowers, meadows and foothills. In Slovakia, beaches were decorated with intricate fish mosaics, watermills built beside streams and model boats tentatively pushed onto rivers to see if they'd float. Croatians formed SOS messages from pebbles and fashioned reeds into wild boar and fishermen. Vera Rapp came first out of 253 entrants in Hungary; her angel comprised natural materials contrasted with the devil made from litter. Bulgarian imagination created sea monsters, bulrush people and giant dragonflies. In Slovenia, rapper, Zlatko, joined Education Minister, Igor Luksic, in awarding the prizes on Sava Day.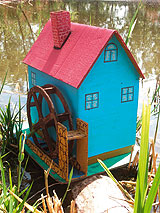 SK: 'Water Mill' by Nikoleta Kolmosová and Sarah Mirre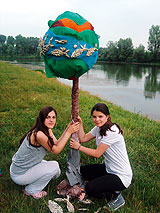 Touch of River, Ivana Bek and Sandra Rašić, Danube Art Master 2011 Croatia.