Cooperation blooms in the Tisza River Basin
ICPDR Danube Watch: Youth parliaments held in Moldova go to the source

Cooperation blooms in the Tisza River Basin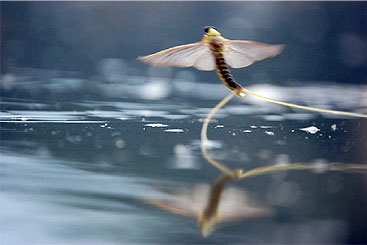 Every year from late spring to early summer, the Tisza River is transformed through the natural spectacle of millions of mayflies, or Tisza Flowers, fluttering on the surface of the water.
Tisza flowers, a type of mayfly, dance around the surface of the Tisza River every June and anyone who has ever seen the dance of the little insects will never forget the beauty of it. The Tisza flower is just one of the treasures found in the Tisza River Basin. To preserve this and other natural values, transboundary cooperation is needed, as the Tisza, the longest tributary of the Danube, flows through five countries: Ukraine, Romania, Hungary, Slovakia and Serbia.
One of the main sub-basins of the Tisza is the Körös/Crisuri shared by Hungary and Romania. To strengthen cooperation between Hungarian and Romanian organizations responsible for environment and water management, a pilot project called 'Transboundary River Basin Management of the Körös/Crisuri River' began in 2005 and will finish this year. The project – managed by French experts and supported by the French Fund for Global Environment – is based on EU Water Framework Directive regulations.
During the last three years, expert missions including seminars, study tours and training have been carried out within the framework of the project. As results of the trilateral cooperation several valuable outputs were achieved, which can be utilised as a basis for the implementation of the future Tisza River Basin management plan.
For more information, please visit:
www.icpdr.org/kocris