Bringing the Black Sea to classrooms
ICPDR Danube Watch: Work resumes on Bystroe Canal

Bringing the Black Sea to classrooms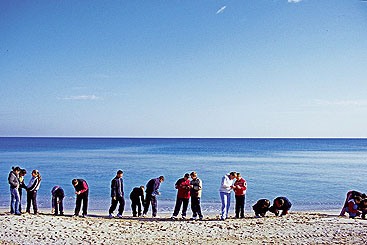 The Black Sea Box will assist teachers in bringing the Black Sea closer to the minds and hearts of the future generation.
Teachers in Bulgaria, Georgia, Romania, Russia, Turkey and Ukraine will soon have a new tool to give local schoolchildren a greater understanding of the Black Sea: the Black Sea Box.
Using the success of the Danube Box in Danube Basin classrooms as an example, the Black Sea Box will support teachers with lessons on the ecological and biological characteristics of the Black Sea, its geography and geology, the ecosystem and human impacts, and the importance of the sea. The Black Sea Box project is a result of the Every Drop Counts water partnership programme between the Coca-Cola Company (Eurasia and Middle East Division) and the United Nations Development Programme's Regional Bureaus for Europe and the CIS.
Six Black Sea experts, under the supervision of an educational expert, will create teaching materials for educators targeting students aged 9–11 to promote and increase the understanding of the unique ecosystem of the Black Sea. The project, which will initially be launched along the Turkish Black Sea coast, will later be implemented in other countries in the region. The educational kit will be developed with the close cooperation of the Black Sea Commission and managed by WWF Turkey.
The Black Sea Box will be launched as part of the festivities for Black Sea Day on October 2009, and following the footsteps of the Danube Box, the Black Sea Box will be a further step in promoting the principles of Integrated Water Resource Management throughout the Black Sea countries.