Social action for sustainable small hydropower

Social action for sustainable small hydropower
Climate change and the protection of freshwater ecosystems are key environmental challenges. As energy needs continue to rise, citizens around the Danube River Basin are working to ensure that energy requirements are met with options that have the least environmental and social impact.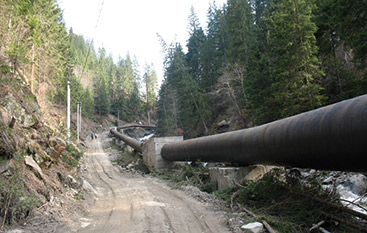 Responding to a lawsuit brought by dedicated citizens, an appeals court in Ukraine declared plans to construct 360 small hydropower plants illegal.
© WWF-DCP
While there is a general perception that small hydropower is environmentally friendly, this is not always the case. Hydropower projects may be planned in ecologically sensitive areas where they could harm the habitats. Under certain circumstances, they may also negatively affect clean water, fisheries and tourism.
Across the Danube River Basin, WWF has been supporting civil society to stop some unsustainable hydropower projects in the Tyrolean Alps in Austria, Natura 2000 sites along the Bulgarian tributaries of the Danube and in the Romanian and Ukrainian Carpathians.
Relying on the ICPDR Guiding Principles on Sustainable Hydropower Development in the Danube Basin, citizens in Romania and Ukraine have successfully barred some small hydropower from excessive state aid. Meanwhile, activists in Austria and Bulgaria have gathered thousands of signatures in their river protection efforts.
'No-go' areas in Romania. In Romania, small hydropower projects will be excluded from EU funding until 2020. The country's new partnership agreement with the European Commission does not envision subsidies for these projects under the Operational Programme Large Infrastructure. Romanian authorities also promised to assign 'no-go' areas for areas protected from small hydropower development. Authorities temporarily suspended existing hydropower construction permits as well, and created a joint working group of government and civil society to develop criteria for integrating 'no-go' areas into legislation and improving construction and operation conditions for hydropower outside those designated areas.
The success in Romania followed a nationwide action in 2013 that united associations of fishermen, researchers, academics and ecotourism groups. A petition against some small hydropower projects gathered
Bringing environmental risks to court in Ukraine. In August 2014, the Ukrainian parliament adopted a law that abolishes tax breaks for small renewable energy producers. Low taxes and high 'green' tariffs had long helped some businesses make serious profit even after paying fines for violating environmental regulations in protected areas and intact rivers. Meanwhile, the Lviv Regional Administrative Appeal Court also declared the plans to construct 360 small hydropower plants in the Zakarpatia Region illegal.
The lawsuit against the plants had been initiated by active citizens supported by NGOs and the Ministry of Regional Development, Construction, Housing and Utilities of Ukraine, among others. In fact, this was the first time activists have managed to overturn a regional council decision in two court instances. Besides the 360 plants in the Zakarpatia Region, the regional selfgovernance body of the Ivano-Frankivsk Region declared an additional 150 plants without proper environmental impact assessment unacceptable. The decision is not binding for hydropower operators, but expresses the will of the local governance body.
As far as small hydropower is one of the solutions to Ukraine's energy problems in the wake of potential gas and electricity shortages, preparations for new hydropower plants are again under way in three regions in Ukraine, including the Zakarpatia and Ivano–Frankivsk regions. It is worth mentioning that taking into account the need of compliance of the Ukrainian legislation to EU Directives on EIA and SEA, stated in Annex XXX of the Ukraine-EU Agreement, there is a strong belief that new small hydropower stations to be built will have minimal environmental effect, supporting the country's independence in the field of energy at the same time.
Building a database of projects in Bulgaria. Since its launch in August 2014, the WWF petition to protect Bulgaria's last free-flowing rivers has gathered thousands of signatures. An online GIS platform maps the country's rivers, water bodies and water protection areas and shows the extent to which ecosystems are harmed by small hydropower plants. The map also presents all existing and planned hydropower plants and the stage of their development.
The GIS platform is a good tool to check plans and current construction of hydropower projects. Fishing clubs in Bulgaria have already used it to build their own small hydropower database. Apart from initiating public debate on river issues, these efforts seek to increase compliance with existing river basin management plans that in fact already forbid hydropower construction in water protection areas.
Discussing expansion with all stakeholders in Austria. Aside from small hydropower projects, environmental organisations in Austria continue to fight against the planned expansion of the Kaunertal hydropower plant and six other large plants in the Tyrolean Alps. The petition against Kaunertal has gathered 20,000 signatures so far, and NGOs and citizens recently presented the document to the Austrian federal minister responsible for environment and water.
A comprehensive round table with all stakeholders was set up to determine how to proceed with hydropower expansion. While NGOs do not fundamentally oppose expansion, they reject plans that affect pristine rivers and intact habitats, as in the Kaunertal case.