Learning from the ICPDR
The work of the ICPDR is supported by a team of staff members, including interns, drawn from across the Danube Basin, all working to ensure the sustainable and equitable use of waters in the Danube River Basin.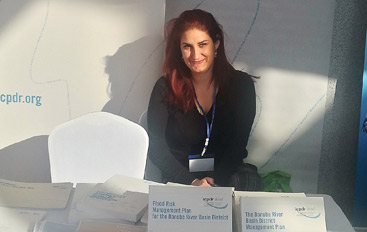 © ICPDR
"I come from a small but striking country on the Adriatic Sea called Montenegro. Strong ecological development is one of my country's core values and one of the main national priorities is to tackle water issues. Last April I was very fortunate to be nominated for an intern position by the Ministry of Agriculture and Rural Development of Montenegro, which recognises the ICPDR as a highly important international body and platform for implementing EU legislation of water-related issues.
This year-long internship programme and the chance to be part of the Danube River Basin protection family with the ICPDR is a unique opportunity for personal and professional development. I am a first year PhD student in Hydrogeology, which has a strong focus on quantitative and qualitative water issues, so an internship with the ICPDR is a very important first step in complementing my scientific knowledge with practical application of water legislation.
After six months of experience working with the ICPDR technical experts on various issues, I have learned about the complex problems of water management and the importance of understanding each area individually, with the aim of improving the sustainable operation of a large system such as the Danube River Basin. As part of the team, I have participated in various conferences and workshops, and ICPDR Expert and Task Group meetings, experiences which have allowed me to broaden my field of expertise. I have had the chance not only to gain technical experience through this internship, but also to make new friends with various backgrounds and from different countries in the basin. It is a real privilege to work in a positive and healthy environment every day, for which we should thank the ICPDR Secretariat for the excellent management and the warm and open-minded approach to interns."