The Great Rivers Partnership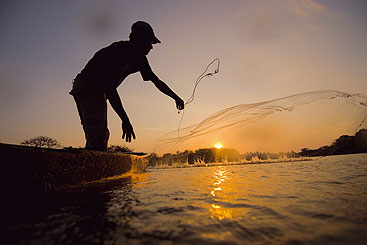 The Magdalena River is South America's fifth largest basin. Covering 24% of Colombia's national territory, the river generates life and serves as an economic livelihood for more than 30 million Colombians living throughout the basin.
The Magdalena River in Columbia is a working river, transporting more than three million tones of goods each year. River managers there are grappling with questions about how to balance the economic, cultural and conservation interests of the river for the 28 million people living in the river basin.
Meanwhile, over 5,000 kilometres away, river managers on the Mississippi River are asking similar questions about their own working river, which is at the heart of the US agricultural economy. Thanks to work by the Great Rivers Partnership of The Nature Conservancy, scientists and decision-makers can come together to solve these problems together.
Focused on common problems. A founding grant from Caterpillar Foundation and other key partners launched the Partnership in 2005, bringing together representatives from industry, conservation NGOs, government agencies and scientists to improve the economic and social benefits derived from water resources while preserving and restoring freshwater ecosystems. Addressing the links between economy, human well-being and ecosystem sustainability, the Great Rivers Partnership focuses on common problems and tangible outcomes, especially in agriculture, navigation, flood control, hydropower and fisheries.
The Great Rivers Partnership has established a global network to share knowledge and best practices through technical exchanges, conferences and site visits. It is this effort to facilitate exchange that brought managers from the Mississippi and Magdalena Rivers together.
"The Magdalena River is at a critical point in its development, and we want to help ensure that decisions to improve hydropower, flood risk management, agriculture, fisheries, and more are informed by relevant experiences on other great rivers with similar challenges," said Michael Reuter, director of the Great River Partnership. "The Mississippi River, which has been developed intensely over the past 200 years, has many lessons that could be shared with the Magdalena to preserve its natural integrity while also providing multiple benefits for people and industry. But that's just one example; there are many. The Great Rivers Partnership taps into a broad network of organisations with lots of expertise focusing on large rivers around the world, like the Danube."
THE NATURE CONSERVANCY
---
Founded in 1951, The Nature Conservancy is an environmental organisation based in the US, working to protect ecologically important lands and waters for nature and people. With over one million members and projects in over 30 countries, The Nature Conservancy is one of the world's largest environmental organisations. The Nature Conservancy takes a scientific approach to conservation, selecting areas to preserve based on careful analysis of what is needed to protect local plants, animals and ecosystems. Furthermore, The Nature Conservancy works with all sectors – including business, communities, partner NGOs and government agencies – to achieve its goals.
Building partnerships. In 2008, the Great Rivers Partnership brought staff from Cormagdalena, the agency managing the Magdalena River, to the Mississippi. For a week, staff and scientist from Cormagdalena, The Nature Conservancy, the US Army Corps of Engineers and the National Great Rivers Research and Education Center visited sites in St Louis and New Orleans to discuss coastal land loss, sediment management issues, navigation needs and flood risk management.
At the end of the trip, agencies from the two rivers agreed to work together to develop a plan for the sustainable management of the Magdalena River. This cooperation will draw on technology, engineering, restoration and conservation expertise from the top river managers across the US.
"There is a tremendous opportunity at the Magdalena," said Julio Carcamo, who heads The Nature Conservancy's conservation initiatives in five Latin America countries, including Colombia. "Cormagdalena, which is the Magdalena River Environmental Authority, is developing a 'master plan' for the Magdalena, emphasising hydropower and navigation. Meanwhile, Colombia's Ministry of Environment and Sustainable Development is drafting a strategy plan for the entire basin. And, in response to the 2011 flood, the government has launched a multi-billion dollar fund to implement flood-risk reduction strategies. The Conservancy and Great Rivers Partnership has collaborative relationships with each of these entities. Our goal is to build on these relationships to advance Integrated River Basin Management, or IRBM, on the Magdalena."
By building these kinds of partnerships between great rivers worldwide, the Great Rivers Partnership is ensuring that the knowledge gained in one river basin can be used by river managers facing similar challenges on the other side of the world.
THE GREAT RIVERS PARTNERSHIP AT WORK
---
Field to Market. In 2006, the Great Rivers Partnership joined an alliance of growers, agribusinesses, food companies and conservation organisations working to identify and support sustainable agricultural practices that meet the world's growing food needs while reducing impacts on the environment and improving the well-being of growers and their communities.
Called Field to Market: The Keystone Alliance for Sustainable Agriculture, the alliance is working to track the impact of agriculture on soil, water, energy use, greenhouse gas emissions, biodiversity and land use.
A water producer programme for South America. The Great Rivers Partnership helped launch an innovative programme in 2007 that is being used in Brazil and other parts of South America to protect water for people and nature. The Water Producer Programme compensates rural landowners who preserve and restore forests and grasslands along streams and implement best management practices on cropland and cattle ranches.
Today, similar water funds and water producer initiatives are being used in Columbia, Ecuador and Peru to protect forests and grasslands and help provide clean, safe drinking water for millions of people.
Flagship floodplains. In 2007, The Nature Conservancy launched an effort to restore 7100 acres of former floodplain, prairie and upland forests at Emiquon along the Illinois River. Today, hundreds of acres of prairie and wetlands have been planted, bringing water to former lakebeds and attracting the return of hundreds of thousands of migratory birds.
Most importantly, the Great Rivers Partnership has helped to position Emiquon as a proof-of-concept project, helping to secure key capital investments and advancing a policy agenda to enable the restoration. In turn, Emiquon scientists have shared the lessons they've learned with other great rivers beyond the US.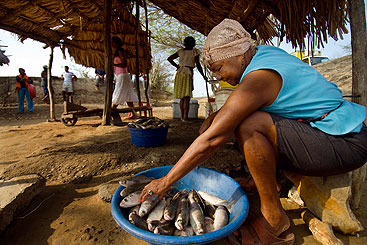 Colombians rely on the Magdalena River Basin for a connection to their natural heritage and culture, and to generate 85% of their gross domestic product.
For more information, please visit:
www.greatriverspartnership.org.