Danube Watch 2/2020 - Dear Danube Family!

Dear Danube Family,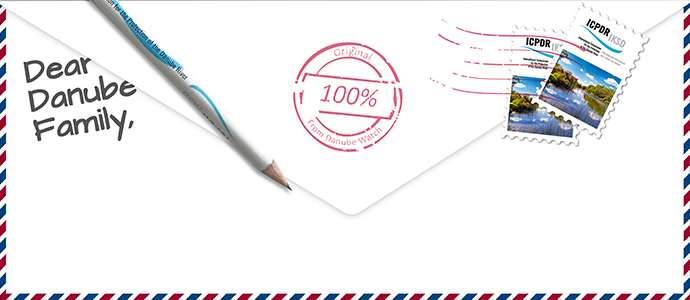 On June 29th each year, the 14 countries of the Danube River Basin jointly celebrate one of Europe's greatest river systems, along with its people and the wildlife that rely on it. So what went on for Danube Day this year?
Well, because of the various restrictions on public gatherings throughout the Danube River Basin as a result of the global COVID-19 pandemic, many of this year's Danube Day celebrations were shifted, and the public was invited to #DiscoverDanube online. Our partners all remained involved in Danube Day 2020, and we all made the best of a difficult situation to continue celebrating the wonderful Danube river!

Despite almost all of our large activities being either cancelled or postponed indefinitely for 2020, our member countries rose to the challenge to keep the Danube Day spirit alive throughout this global crisis. Just as many of us have embraced technological tool and the internet to continue getting things done during this crisis, so have many of the participating countries for Danube Day.

The Danube Passport from previous years returned, but utilised an online format this time around. Special web pages for Danube Day 2020 were constructed all around. These included Danube-related quiz games for web visitors to test their river knowledge as well as educational short videos all about the many sights along the Danube. There were even some online events geared toward children and families that took place live, and can still be viewed as videos on certain Danube Day webpages. This also holds true for the several webinars hosted by experts in many river-relevant fields - which fostered wonderful discussions on the Danube.

The social media channels of various government ministries and partner organisations all celebrated Danube Day with a wide variety of fun and informative posts. While embracing all that new media has to offer, traditional media was far from forgotten; water ministry newsletters and environment-focused magazines and journals dedicated a great deal of focus on Danube Day 2020. Of course, these publications were also made available online.

This year, the Danube Art Master competition was made even more interesting with a new category and online participation. As this year the motto was "Discover Danube", the new category we introduced was: Maps! Participants were encouraged to explore the riverbank and create a map that marks various points of interest (e.g. a castle), significant places highlighting biodiversity, places for recreation (beaches, parks, bike lanes etc.) and also places that might need more attention (e.g. places in a bad condition, places that require a clean-up, flooded zones etc.). The map could also reveal some curious or lesser known facts about the river.

Finally, Susanne Brandstetter led virtual presentations on Danube Day 2020 activities and ran a virtual tour de table country-by-country. She also asked the representatives to end their presentations with a few statements about how important Danube Day is for their countries. All stressed the benefits of Danube Day celebrations as well as the hope for a return of events in the near future.

The success of this year's Danube Day celebration can be credited to the various participating organisers from the Danube countries, partners and the public, as well as their willingness to think outside the box and embrace an online Danube Day.