Danube Watch 2/2018 - WWF Big Jump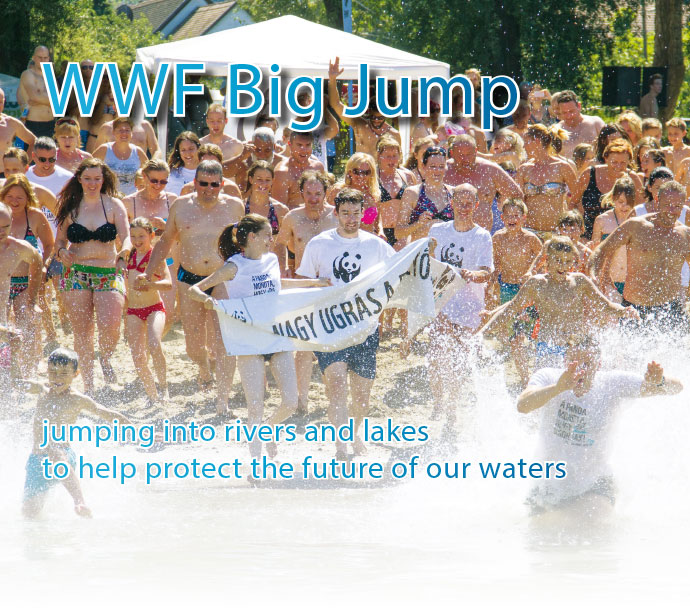 On 8 July 2018 thousands of people across Europe jumped into rivers, streams and lakes in more than 160 European 'Big Jump' events. Groups of families and friends jumped to make a statement, protect our rivers and lakes, and to show that Member States need to follow the positive spirit of the EU water law to which they are committed.

The public engagement event saw people jumping, diving, wading and kayaking in 18 European countries from Spain to Poland. The Big Jump is an annual event founded by the European Rivers Network and has taken place since 2002. WWF offices across Europe organised 46 Big Jump events, and used the occasion to kickstart its #ProtectWater campaign to promote the EU Water Framework Directive, a crucial legal instrument for protecting Europe's freshwater ecosystems.

As a landmark policy, the Water Framework Directive recognises the fact that if we are to secure sufficient supplies of good quality water in the future, we need to conserve our freshwater ecosystems today. "This Big Jump has shown that people love rivers and lakes. It is an event that brings pleasure, joy and fun. The abundance of wildlife makes these ecosystems a special place for our threatened nature. However, it is very worrying that Member States have been skirting around their legal commitments to EU water laws for the majority of the past two decades. It is high time to understand that water is the basis of all life on earth and not a commercial product like any other," said Laurice Ereifej, Regional Head of Freshwater at WWF-Danube-Carpathian Programme.
The introduction of the EU Water Framework Directive states that water is not a commercial product like any other, but rather, a heritage which must be protected, defended and treated as such.
"Sunday was a fun day out in places that people love, but with a serious message: Europe's leaders must do more to protect our wonderful waterways," stated Roberto Epple, founder of the Big Jump and chair of the European Rivers Network.

Big Jump was organised at 11 locations in Hungary attracting almost a thousand people, including scouts. In Slovakia, the events took place on the Danube River in the capital Bratislava, the Hron at Banska Bystrica and the Vah at Trencin and Liptovsky Mikulas. In Ukraine, WWF asked people to take photos and videos of themselves and friends jumping into the river.

Big Jump is an open source event that aims to remind people of how valuable Europe's rivers, lakes and wetlands are. Big Jump seeks to inspire people to remember the powerful ties that bind them to freshwater ecosystems, and encourage them to join the fight to save them. Since 2002, around 200,000 people have taken part before in over 2,000 events.
Next: Danube Watch 2/2018 - Rediscovering Trajan's bridge over the Danube