Danube Watch 2/2018 - Danube Day 2018: Get active for a healthier Danube!

Danube Day 2018: Get active for a healthier Danube!
The ICPDR would like to thank everyone involved in Danube Day 2018. Read
about events and organisers at www.danubeday.org.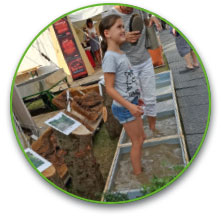 GERMANY
Bavarians got active with riverbank clean-ups, a mass river swim and floodplain forest tours. Environment Minister Marcel Huber signed a declaration creating a 'people-free' Danube island. In Baden-Württemberg, the International Danube Festival opened with a parade of 650 flags representing Danube diversity. Visitors explored interactive models, learning about flooding and river revitalisation.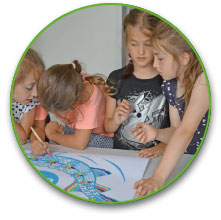 THE CZECH REPUBLIC
Prague joined in the festivities with a Water Research Institute Open Day. Fun activities and films educated school groups about river conservation and regional cooperation. Mosty u Jablunkova's annual party in Moravia-Silesia saw children take on challenges to win Danube Day goodies.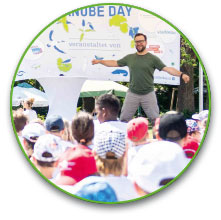 AUSTRIA
Danube fun filled Vienna's City Park (Stadtpark), where 1,000 children, including a delegation from Romania, enjoyed eco challenges, fascinating facts, creatures, crafts and competitions. Hosted by TV star, Robert Steiner, it showcased Danube diversity and nurtured young people's enthusiasm to protect the river. An exhibition to mark 24 years of basin-wide cooperation was held in the Rotunda at the Vienna International Centre.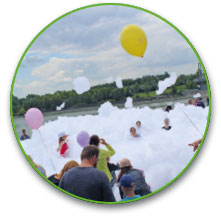 SLOVAKIA
3,500 people enjoyed three family festivals. Highlights included TV celebrity Thomas Puskailer's ECO H20 Tour, which explained water conservation in an entertaining way. An exhilarating day at Gabčíkovo included free cruises, rescue demos, virtual kayaking, a foam show and a Circus of the Giants! New for 2018, the Waterworks Museum featured magic physics, mini aquariums and art workshops.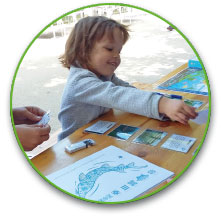 HUNGARY
Community and professional events reached out to tens of thousands of people. In Érsekcsanád, Hungarians and Serbs shared music and their friendly rivalry in sport and fish soup cooking, and heard river management speeches by the ICPDR and state officials. Győr's water-based fun was a hit at the Győrkőc youth festival, while the Danube Children's Festival found a new home at Budapest Zoo. An international conference also discussed ways to combat plastic pollution.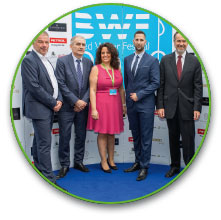 SLOVENIA
11,000 people took action for a sustainable future. At the Bled Water Festival, expert panels and participants from eight countries tackled barriers to sustainable water management and children were awarded prizes for innovative projects. Sustainable tourism was debated at the Sava Youth Parliament. While, in the 'My river' contest, volunteers cleared a mighty 80 tons of waste!
CROATIA
In Ilok, community action led by Hrvatske vode, local groups and Coca-Cola HBC resulted in the clearing of 2km of riverbanks. A workshop on protecting Danube resources took place near Osijek. The Green Osijek Eco Festival at Zlatna Greda celebrated both Danube Day and the anniversary of the Mura-Drava-Danube Biosphere Reserve.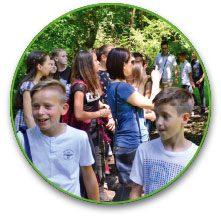 BOSNIA-HERZEGOVINA
Ekotim celebrated by hosting the national Art Master awards and organising a school trip to the Bosna spring. Visitors learnt about conserving water resources and maintaining wildlife diversity; the visit fostered a desire to protect rivers and the Danube Basin in general.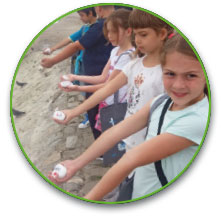 SERBIA
Three months of celebration began in Belgrade and spread to Bela Crkva, Stara Palanka, Veliko Gradište, Bačka Palanka, Novi Sad, Pancevo and Ćuprija! Enthusiasm for rivers was nurtured through workshops, boat trips and regattas. The Zemun Quay trail saw children navigate between fun activities, learning about rivers along the way. Drawing solidarity symbols onto stones, they threw them into the water to send 'water-mail' downstream.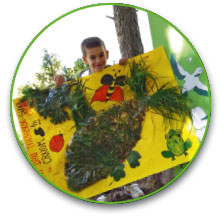 MONTENEGRO
Montenegro joined the celebrations in 2018, with a festival at the breathtakingly beautiful Crno jezero in Durmitor National Park. Run by the Ministry of Agriculture and Rural Development and Zabljak Tourist Organisation, families enjoyed boating, orienteering, woodland art and eco workshops.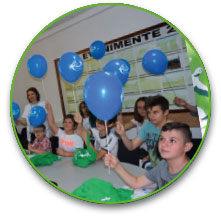 ROMANIA
60 actions saw thousands get active across all 11 Water Basin Administrations. Minister Ioan Denes was joined by 100 specialists and stakeholders for a main event in Orșova. A parallel children's festival educated future river stewards on how to ensure waters are fit to drink and safe for wildlife. While, Galati's 4-day extravaganza featured a spectacular light show, parade and flashmob.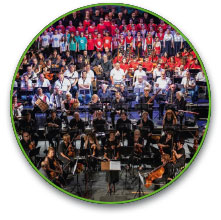 BULGARIA
Festivities covered all seven Danube provinces, motivating 2500 visitors to cycle, cook, fish, get creative and clear rubbish from the Danube. In Belene, WWF enlisted locals to take action for sturgeon conservation. In Rousse, 200 musicians performed Danube pieces at the State Opera House; and in Sofia, experts discussed climate change and trends in water resources.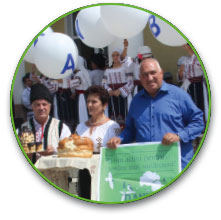 MOLDOVA
On the banks of the Danube-Prut confluence in Djurdjulesti, folk teams entertained 1,000 residents and government and embassy officials to celebrate the region's rich traditions and a sustainable future. Hosted by the Ministry of Agriculture, Regional Development and Environment, water resource projects were presented including the newly-designated Lower Prut UNESCO Biosphere Reserve.
UKRAINE
Always colourful and innovative, Zakarpattya's event introduced a pirate's regatta and eco-knights quest to combat plastic pollution! These new heroes inspired children in Kvasovo to craft fabulous boats from plastic waste, complete the knights' eco-challenge and take to the stage to persuade people to reduce plastic waste. Highlights included the knights' duel; canoe trip accompanied by plastic boats; and knighting of the children for services to rivers! Elsewhere, WWF championed sturgeon conservation in Vylkove.