Danube Watch 2/2017 - From Black Forest to Black Sea: former entrepreneur Pascal Rösler paddles over 2,500 kilometers in 63 days

From Black Forest to Black Sea: former entrepreneur
Pascal Rösler paddles over 2,500 kilometers in 63 days
Stand-up paddler collects over 10,000 Euro in donations to guarantee Pure Water for Generations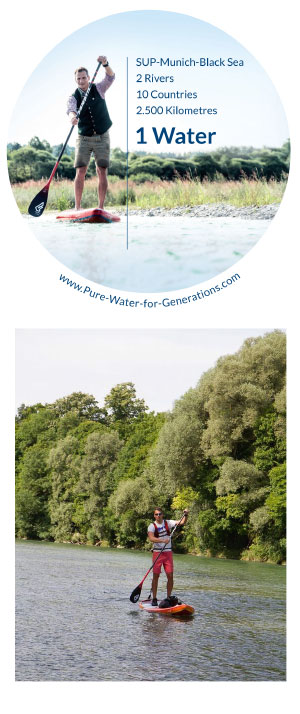 Munich to Sulina
After starting out from the Isar river in Munich in mid July, Pascal Rösler finally reached his destination at the mouth of the Danube on the Black Sea on 20th September. The meter attached to his stand-up paddle board (SUP) shows that after 2,500 kilometres and 63 days, stand-up paddler Pascal had made a total of just under 600,000 paddle strokes: "Each and every stroke brought me closer and closer to the Black Sea and with the last stroke my journey came to an end. It was an intense encounter with nature and I have learned so much about myself. At the end of the day, it was a wonderful experience and we are more than satisfied with the amount of donations collected, which total more than 10,000 Euros", explained Pascal Rösler after his arrival at Sulina in Romania. The donations will support his non-profit organisation Pure Water for Generations eV (www.pure-water-for-generations.com), which he and his fellow co-founders set up earlier in the year with the aim of supporting the protection of water and rivers.
So much help and support along the way
On average, Pascal Rösler spent six to eight hours on his SUP board. "Some people go to work in the morning, I paddle - full stop!" he commented. During his epic journey there were times when he never saw another person, either on the shore or on the river for dozens of kilometres. His only companions at such times were gulls, herons, cormorants and pelicans. On the route between Munich and the Black Sea, Pascal also met many new supporters and friends who have pledged to help him with his conservation projects in the future. "I met so many people who share my goals and are committed to preserving sustainable clean water. I was surprised how positive the response to our action was", he continued. Time and time again, people offered help along the route - whether it was fresh water, a bed for the night, or a good meal. It was an interesting experience to realise that the willingness to help was always the greatest from people living in the most simple of circumstances. Communication along the route was helped greatly by a website in nine languages and a promotional beer coaster.
Next: Danube Watch 2/2017 - Bled Water Festival - Water is life, don't waste it!