Danube Watch 1/2017 - The Black Sea's angels are back: A key indicator species rebounds

The Black Sea's angels are back:
A key indicator species rebounds
After decades of pollution, a legendary sea creature returns to the Danube Delta, bringing with it some welcome good news about the area's biodiversity.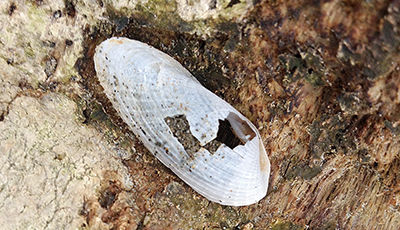 Ukrainian children have created a new legend: an angel lost its wings to combat pollution in the Black Sea and a mollusc with magical powers was born from them. The mollusc, known locally as 'Angel's wings', can prevent natural disasters and grant wishes to those who touch it. It's a nice story with a hearty helping of truth; while not necessarily magical, the mollusc is an ecological sentinel, thriving when pollution is down and biodiversity is restored. And for environmental decision-makers in the Danube region, its recent return is certainly a wish come true.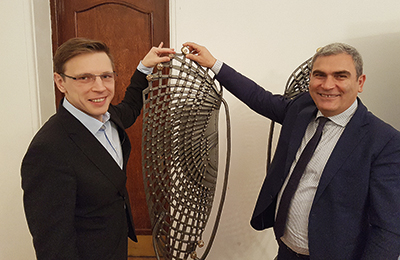 Mykola Kuzyo, Deputy Minister fort he European Integration Ministry of Ecology and Natural Resources of Ukraine (left) and Gigla Agulashvili, Minister of Environmental Protection and Natural Resources of Georgia (right) with the model for the metallic sculpture commemorating the 20th anniversary of the signature of the Black Sea Strategic Action Plan. This sculpture is made of two shells or 'angel's wings', which were presented to the city of Batumi; an identical sculpture will be placed in Odesa. It symbolises joint efforts by Ukraine and Georgia to protect the Black Sea.
The bivalve mollusc Barnea candida, commonly known as piddocks, gets its more poetic name 'angel's wings' from the strange characteristic structure of the valves, which are white and, when opened, look like wings. The species is often found in southern Norway in the Mediterranean and West Africa. Their closest location to the Danube Delta – about 100 km along the shore – is the eastern border of the Tuzlovsky lymans National Nature Park of Ukraine near the village of Lebedivka.

In the upper part of its valves, one can observe crossings of radial and concentric edges where the mollusc's sharp teeth are located. These are useful tools it uses to bore deeply into limestone, clay and wood. The shell is very fragile and if the mollusc is washed out from the substrate, where it lives, its valves are easily damaged by the crashing waves.

An ecological sentinel
This rare species reacts rapidly to the pollution of the Black Sea, which causes an oxygen-choking density of nutrients and plant life. Its sensitivity to high concentrations of organic matter in marine water make it a prime indicator species; its presence (or lack thereof) tells us much about pollution levels in the aquatic ecosystem.

Angel's wings were first registered in Ukraine in 1949, during surveys conducted in the Ukrainian part of the Danube Delta. They thrived for decades, according to the scientific data of the Danube Biosphere Nature Reserve, until a decline in the 1980s. The Institute of Marine Biology of the National Academy of Sciences of Ukraine confirmed last year that it has returned, after years of countless wishes made on the legendary creature's 'wings'.

For more information about the ecological sentinels of the Black Sea, visit:
http://emblasproject.org/wp-content/uploads/2016/09/21_09_2016_ua_eng_Environmental-Sentinels-of-the-Black-Sea2.pdf