Danube solidarity: united across borders to fight the floods

Danube solidarity:
united across borders to fight the floods
The devastating floods in the Western Balkans this spring proved that the rivers of the Danube Basin are more than boundaries; they are bonds that link the countries together in shared compassion.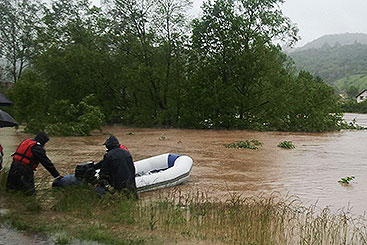 Moving stories of support given domestically add to the international aid effort – with individuals pitching in to help their neighbours throughout the affected areas.
© Agency for the Water District of the River Sava, Bosnia and Herzegovina
For many years, the ICPDR has been an advocate of Danube solidarity in pursuit of measures to manage flood risks. Traditionally, this solidarity has called for flood protection that retains water and considers the circumstances of downstream regions. The devastating floods in the Western Balkans this year, however, resulted in a demonstration of solidarity that went even further.
Resulting from the heaviest rain in a century, the worst floods in the Balkans for decades left dozens dead and forced tens of thousands of people to leave their homes. The enormous material damage has yet to be assessed.
Soon after disaster struck, the permanent missions of the affected countries approached the delegations of all ICPDR contracting parties with pleas for help – monetary, material or knowledge. Technical cooperation facilities collaborated, as did the militaries of all affected countries.
United in aid efforts. Several teams from the German Agency for Technical Relief helped local people in Bosnia and Herzegovina and Serbia to fight the floods. Slovenian forces from police, army and civil protection units were active in the region from an early stage of this historical flood event in the Sava River Basin. The Hungarian disaster relief team HUNOR helped in the Serbian village of Klenak and 100,000 sand bags were sent from Hungary to the Bosnian city of Orasje.
Relief actions were organised by Austria, providing pumps, helicopters from the Austrian EUFOR contingent and financial support for relief actions. Two Czech teams operated water pumps in Serbia with a capacity of 700 litres per second and 1.500 litres per second. Two more Czech teams operated pumps in Bosnia and Herzegovina with a capacity of up to 5000 litres per second, and used long-distance transportation equipment to remove the pumped water from the affected area.
These are just some examples of a wave of support and solidarity given to help the flood victims. Moving stories of support given domestically add to the international aid effort – the Serbian Danube Day, for example, was drastically downscaled and the funds budgeted for it given to flood victims.
Help is still needed. Taking all of this into account, the damage and losses are still dramatic and aid continues to be urgently needed. If you can help, please note the aid efforts coordinated by the relevant Red Cross country organisations:
Next: Towards sustainable flood management: progress on the first Danube Flood Risk Management Plan