Kingfisher
Alcedo atthis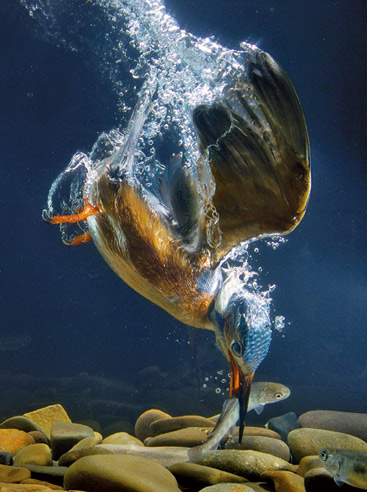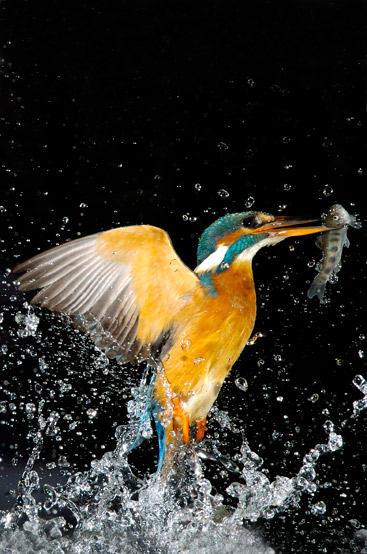 The kingfisher perches above the water on the lookout for small fish. Once it spots a fish, the kingfisher plunges into the water – even submerging itself completely if necessary.
© Delpho
The kingfisher is dependent on floodwater conditions in the Danube wetlands, which shelter some of the most important kingfisher breeding grounds. On the one hand, it requires the formation of sandy-loamy river banks where it can excavate its breeding tunnels. On the other hand, the kingfisher – which plunge-dives vertically into the water to catch small fish, its main source of food – requires an ever-evolving river bank structure with washed-up deadwood and overhanging branches as perches as well as shallow waters rich in small and young fish.
However, river regulation has led to the elimination of entire swaths of land as suitable habitats, and the kingfisher is categorized as 'endangered' on the  International Union for Conservation of Nature (IUCN) Red List. Of great danger to the kingfisher is the pollution of waters by toxic chemicals from industry, but also through eutrophication, or the overfertilisation by agriculture and runoff from residential development. Thus the EU Birds Directive stipulates special protection of the kingfisher, as it does for other endangered birds of Europe, and its habitat in appropriate sanctuaries, the so-called Special Protection Areas.
The kingfisher is the flagship species of the Donau-Auen National Park and by achieving conservation of this species, the status of many other species which share its habitat – or are vulnerable to the same threats - may also be improved.
Next: Danube Day 2016