Danube Watch 3/2021 - News and Events

DRBMP & DFRMP Updates 2021 Published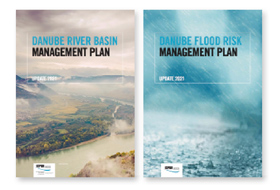 Following 2021's public consultation process, the ICPDR has published full and summarised versions of its Danube River Basin Management Plan (DRBMP) and Danube Flood Risk Management Plan (DFRMP) Updates 2021.

The two plans have now been made available in both digital and print formats, presented in a refreshed new format and design. The DRBMP Update 2021 sets out further aims to protect and enhance the status of all waters in the basin, and to prevent their deterioration while ensuring sustainable, long-term use of water resources for the next six years. It establishes and strengthens several integrated principles for river basin management and connections to other sectors' policies like energy, transport and adaptation to climate change. This is the second update to the DRBMP, which was first adopted in 2009, and received its first update in 2015.

The DFRMP Update 2021 – the first such update to this plan, which was first published in 2015 – represents a key step forward in the ICPDR's work towards sustainable flood risk management. It strengthens various aspects of flood risk management focusing on prevention, protection and preparedness, including measures for achieving the established objectives and calls for solidarity among all ICPDR Contracting Parties.

Visit www.icpdr.org/main/publications/management-plans to discover the DRBMP & DFRMP Updates 2021
ICPDR Commitments Renewed at the 4th Danube Ministerial Meeting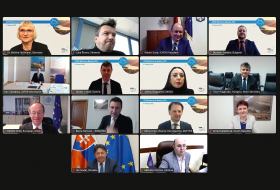 On 8th February, the ICPDR held its first ever online Danube Ministerial Meeting, seeing all contracting parties endorsing six more years of plans for the Danube River Basin.

Ministers and Minister Representatives responsible for water management from the Danube River Basin countries Austria, Bosnia and Herzegovina, Bulgaria, Croatia, the Czech Republic, Germany, Hungary, Montenegro, Moldova, Romania, Serbia, Slovakia, Slovenia and Ukraine and the European Union joined the meeting, held online for the first time due to the ongoing pandemic. They endorsed the ICPDR's two updated Management Plans and adopted a ministerial "Danube Declaration" at the meeting, which also included a panel discussion with experts from ICPDR Observer organisations on lessons learned from their own relationship and cooperation with the ICPDR.

The Management Plans set out measures for the coming six years to ensure cleaner, healthier and safer waters for everyone to enjoy – an objective as relevant and urgent today as in 2016, when the Ministers of the Danube Countries last adopted these two Management Plans: the Danube River Basin Management Plan (DRBMP) and Danube Flood Risk Management Plan (DFRMP) Updates 2021. Both plans have been prepared as stipulated in the EU Water Framework Directive and EU Floods Directive.

"It can be easy to take water as a resource for granted," said Mr. Róbert-Eugen Szép, President of the International Commission for the Protection of the Danube River (ICPDR). "Especially in the context of climate change however, it's becoming clearer than ever just how important it is for us to protect the waters of our shared river basin. This isn't only important for us though – it's important for future generations too."
Romania takes over ICPDR Presidency from Montenegro for 2022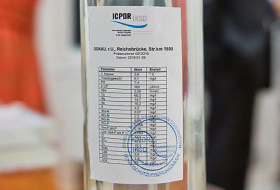 At a ceremony held as a hybrid event both online and at the ICPR Secretariat in Vienna, Momčilo Blagojević of Montenegro handed the traditional bottle of Danube water over to incoming ICPDR President from Romania: Róbert–Eugen Szép.

The incoming President announced that the Romanian Presidency will be placing priority on the ICPDR Ministerial Meeting 2022, the implementation of the provisions of the Danube Declaration 2022, as well as initiating measures laid out in the Danube River Basin Management Plan and Danube Flood Risk Management Plan Updates 2021.

The Presidency handover event saw representatives from the Romanian and Montenegrin missions in Austria participating in the ceremony. As is the ICPDR tradition, Ambassador Veselin Šuković from the Permanent Mission of Montenegro to the United Nations, Organization for the Security and Co-operation in Europe (OSCE) and Other International Organizations in Vienna, along with Irina-Elena Donciu, Minister Plenipotentiary, Chargé d'Affaires at the Permanent Mission of Romania to the International Organisations in Vienna, met to exchange a bottle of Danube water on behalf of the respective incoming and outgoing Presidents. Passed over at every ICPDR presidency handover ceremony since the mid-90s, the bottle symbolizes the ways in which ICPDR Presidents hold the future of the basin's waters in their hands.
Wastewater Treatment Workshop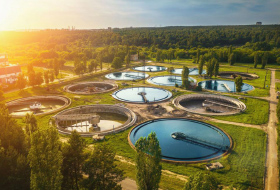 The ICPDR was happy to continue its workshop series jointly organised with the World Bank's Danube Water Program at an event discussing sustainable financing of wastewater management with experts from and beyond the Danube River Basin on 3rd February 2022.

This workshop, titled "Financial sustainability of wastewater management in the Danube region", aimed at providing government and utility representatives with knowledge and expertise on sustainable modernization efforts in the wastewater management sector, focusing on three thematic areas:
Status of financial sustainability of wastewater management in the Danube region, based on existing analytical works and recent studies on the topic.
The way forward to sustainable wastewater management at the policy level, based on practical experiences on the national level.
Best practices of sustainable wastewater services development at the utility level, based on experiences from individual utilities or consultants, and focusing on O&M costs, technology choices, and longer-term business and investment planning.
Several key conclusions and outcomes from the event can be found via the event page online: https://www.iawd.at/eng/event/693/details/w/0/financial-sustainability-of-wastewater-management-in-danube-region/