Danube Watch 2/2021 - Biodiversity: "At The Collapse"

Danube Day 2021:   Disover Danube!
The ICPDR would like to thank everyone involved in Danube Day 2021.
Read about events and organisers at www.danubeday.org.

On the 29th June each year, the 14 countries of the Danube River Basin jointly celebrate one of Europe's greatest river systems, along with the rich diversity of people and wildlife that rely on it. In 2021, a multitude of events took place across the Basin in the weeks either side of Danube Day.

Due to the various continuing restrictions on public gatherings throughout the Danube River Basin as a result of the global COVID-19 pandemic, 2021's Danube Day celebrations on and around 29th June took place both online and offline, to ensure participation could take place without compromising safety.
BULGARIA
From 25th – 30th June 2021, a Danube Day Festival took place around the scenic towns of Nikopol and Baykal on the banks of the Danube in Northern Bulgaria. The festival included interactive educational models, concerts, competitions, exhibitions (held in accordance with pandemic safety regulations). Clean up events were also held up and down the Danube and its tributaries throughout Bulgaria.
SLOVENIA
One Danube Day 2021 action took place in Slovenia around the Kola River, titled: "When water from Kolpa will reach the Danube: Continuing with action Marking of high water level". The main purpose of this action was to encourage critical judgment of one's own and others' actions while raising the individual's sense of responsibility in case of floods.
CZECH REPUBLIC
Czech activities for Danube Day 2021 remained online this year, coinciding with their launch of communications of the results of the Fourth Joint Danube Survey (JDS4). Additionally, the Czech Ministry of Environment published a (Czech language) article about both JDS4 and Danube Day 2021.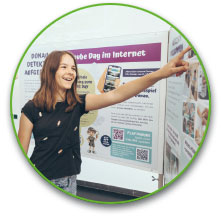 AUSTRIA
Austria created their own dedicated Danube Day website, including an online game app for kids offering a chance to learn about the Danube, and become a "Danube detective". Visit: www.danubeday.at. Additionally, a special exhibition was on display in Vienna throughout Summer 2021 on the Danube Island ('DonauInsel') in the city, receiving over 300 visitors, and featuring 12 display boards with interesting facts about the Danube, a kids' dice-game, a "hot wire" skill game, and a fishing game!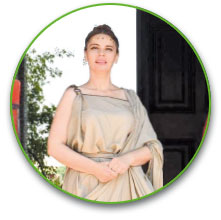 SERBIA
The Serbian Danube Day team created a platform on their website (srbijavode.rs), which included educational short films about the sights of the Danube River, and a quiz for participants to take to test their Danube knowledge. Additionally, PWMC "Srbijavode" created a video about Roman heritage on the banks of the Danube. Sadly however, the annual Vode Vojvodine Regatta was once again postponed due to the coronavirus pandemic. Several Danubian municipalities in Serbia also organized local events, including clean up events in Apatin, an ecological music festival in Bački Monoštor, a family-focused gathering in Banoštor, a creative arts workshop in Bačka Palanka, and an arts exhibition in Smederevo.
GERMANY
A stakeholder and river expert meeting at the German-Austrian border was organized in Jochenstein. Participants from both countries active in water administration, nature conservation, hydropower and experts for biodiversity and river restoration, expressed their commitment to improving nature in the Danube ecological corridor. The blue ribbon of the Danube symbolizes the connection along the river across the borders. A few days prior, an ecumenical action circle of Catholics and Protestants for 'A Flowing Danube' met at the Danube River crossing in Niederalteich, near to Deggendorf (a town noted for its old monastery). The participants celebrated 25 years of commitment for the Danube with music, singing and praying for the river and for a sustainable use of nature.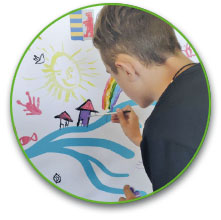 UKRAINE
On 26th June, in Kvasovo village, Zakarpattya Oblast, at the Borzhava River (a tributary of the Tisza River), specialists of the Tisza Basin authority and Oblast department of the emergencies in the Oblast held an event where they removed litter from a river net, specially-designed to catch floating litter in the water. The action included a joint cleanup of the Borzhava floodplain, along with parallel cleanups in the Prut and Siret basins and at the Danube Delta, plus some online video reports. Additionally, a quiz for kids,"Story of your river", took place at the school in Kvasovo. Kids were able to draw their answers to various questions on a wall placard.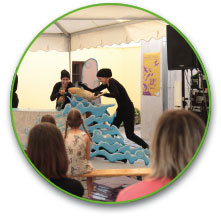 HUNGARY
An online event organised via www.dunanap.hu reached over 12,000 people, and included an online contest wherein partners prepared short presentations on their activities and quizzes with 5 questions each. Additionally, an award ceremony also took place for those who won a prize during the online contest, and some 80 - 90 participants were invited to Esztergom for an award ceremony held at the Duna Múzeum, including some pre-prepared games for children. The event closed with a water and environment related puppet-show presented by "Délibáb Társulat".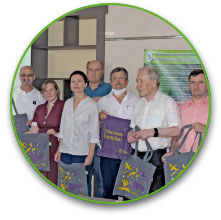 MOLDOVA
On the event of Danube Day 2021, a public conference on Danube activities was held in Moldova, taking place in the Lower Prut region with remote hybrid connections in Chisinau and elsewhere. Some 200 people were in attendance to discuss various aspects of Danube water conservation in Moldova.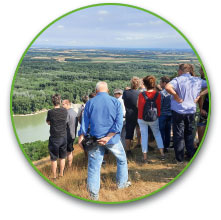 SLOVAKIA
On 9th July, a cross-border excursion into Donau Auen was an opportunity for Slovaks to learn more about the revitalisation of watercourses in the context of WFD implementation in Austria. An online webinar on 28th June ("Danube – our and European River") also took place, and a photo competition was held by the Slovak University of Technology (STU) - the happy winners were awarded coveted Danube Day bags! .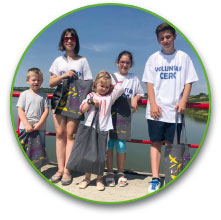 ROMANIA
The Romanian Ministry of Environment, Waters and Forests published a press release in the local and national media to promote the importance of the Danube River in our lives and to the aquatic ecosystem. Furthermore, the Banat Water Basin Administration participated in a large cleaning water action in Orșova, on the Gulf of Cerna, collecting over 110 bags in 5 hours representing 900kg of waste. The Crisuri Water Basin Administration also organized several different activities dedicated to Danube Day 2021: in Beius County the children from the Aquarium Club participated in an ecological workshop dedicated to the little ecologists, and hosted a painting exhibition. Several more local municipal events also took place, including a celebration at the Natural Science Museum in Galati, clean-up efforts in Tulcea, a fair for schoolchildren in Braila, and an event in Calarasi City Hall.