Getting out of the box and reaching the people
Getting out of the box and reaching the people
One of the communication goals of the ICPDR is to ensure that information on the work being done in the basin is accessible and relevant, and that the message of sustainability goes right to the hearts of all stakeholders in the region.

Susanne Brandstetter, Chairperson of the Public Participation Expert Group of the ICPDR
In its continuing series, Danube Watch presents portraits of people whose passion and commitment actively steer ICPDR processes and help determine the future of the basin. Susanne Brandstetter, Chairperson of the Public Participation Expert Group of the ICPDR, explains why it's vital to reach out to the 81 million people living in the Danube River Basin.
Danube Watch: Why do you think it is important to invest time and money in communication?
Brandstetter: It is important that ICPDR has very good technical projects and is working hard on environmental water issues along the River Danube – but it is also important to have a strong focus on the public to communicate – via websites, press releases and interesting communication projects and other tools – what's done, what's on the way and what has to be done. It's vital to involve 'people from the street' and to reach their hearts – with information and emotion! It is important to have the people 'on the boat', to have public support for investments and projects. People should also know what their role and their responsibilities are; awareness-raising is very important.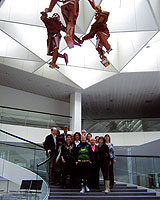 The Public Participation Expert Group during its last meeting in Bonn, Germany in October.
Danube Watch: Reaching 81 million people living in the Danube Basin – is this a realistic goal?
Brandstetter: There are a lot of good awareness raising projects going on along the Danube River. The ICPDR has the important role of raising enthusiasm in the countries and finding the right persons to 'make communication happen'. Danube Day – held each year on 29 June – is the most important and successful communication project along the Danube, perhaps it is the most important awareness project along any one river, connecting so many countries, nationalities, cultures, history and people in the world. I am very happy that we have Danube Day and that it continues to get bigger and bigger every year. There are also a lot of fruitful tools for special target groups such as teachers and pupils in the form of the Danube Box, which has already been translated into so many national languages, or the Danube Art Master, which is the most important art competition for young people in the Danube River Basin. In Austria we have had win-win cooperation with Coca-Cola Austria – the Danube Challenge provided information, adventure, fun and action for more than 400 children on the Danube this year.
It is always important to involve the media for a broader public – as for the Joint Danube Surveys or the Minister Conferences and new target groups via new channels, such as Facebook. The ICPDR, together with the countries, should reach out as far as possible and get as many people as possible 'on the Danube Family Boat'. Reaching 81 million people is an ambitious and glorious goal – we should go step by step in this direction! Therefore you have to open all communication channels.
Danube Watch: From your personal experience from Austria, what else can be done?
Brandstetter: Austria is advanced in communications tasks – we have more than 10 years' experience with important and successful awareness-raising projects and campaigns, such as the Year of Water 2003. Since 2004, Generation Blue – an internet platform for water – has targeted young people aged 13 to 19 years. It is important to have this umbrella and make ongoing projects visible and create new ideas with hip and funky communication tools like tattoos, stickers, games, trophies and so on. If we get the approval of the LIFE + for the Blue Danube Campaign, we could share our Generation Blue experience throughout the whole Danube River Basin. That would be great and would be also perfect for the ICPDR to communicate with young people. To reach young people, tools like Facebook are a 'must have'. We have very good experience with modern communication tools in Austria – they allow you to reach completely new target groups and create interest for important topics quickly and easily, with pictures and links to websites, YouTube etc. You create a 'fan network'.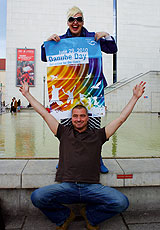 Another important long-term awareness-raising project is the Neptune Water Prize awarded every two years to good water projects in the region. Some 3000 water projects have already been submitted this year! The awards are presented with a big event with the Minister and all sponsor partners for the celebration of the winners. Projects are technical, include input from the broader public and from artists. From my point of view artists play an important role in communication, civil society and in getting in touch with people. They create interest in a completely different manner, such as paintings, videos, performances etc., and they can be our ambassadors for important ideas.
In my personal experience it is always necessary to raise awareness over a long term and have highlights in between, so you have to structure your communication and have your overall goal in mind. It is also important to focus outside – to identify the needs, find new partners on the way, work with them, find funds, create campaigns etc. I am going to do my best to share these experiences in the Public Participation Expert Group.
Danube Watch: What can we expect next from the ICPDR?
Brandstetter: The ICPDR already has a strong focus on communications and public participation tasks and in the coming years you can expect a well motivated and committed working group of public participation experts. From my point of view the people in the Danube countries, together with the ICPDR, should work together more deeply and should make all these positive things going on as visible for as many people as possible. This ICPDR will perform better, using all the necessary communication tools. It would be great to get the approval from the EU Commission to realise all the great ideas for the Blue Danube Campaign we developed this summer. This would be a perfect tool and communication plan for the next few years to ensure that more and more people can say "I ♥ Danube", like I do.
Danube Watch: Thank you, Ms. Brandstetter!