Danube Watch 2/2017 - Avram the Amazing Swimmer

Avram the Amazing Swimmer
Endurance swimmer Avram Iancu swims 2,860 km along the Danube River, from the Black Forest in Germany to the Black Sea in Romania, crossing ten countries and passing through four capital cities.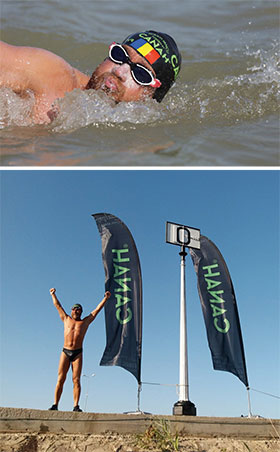 On 16th September, Avram made history by becoming the first person to swim the Danube without fins or a wetsuit. After starting his journey on 20th June at Donaueschingen in Germany, he finally reached the Black Sea in the Romanian town of Sulina. Avram swam an average of 32 km per day, but actually managed to swim 53 km on one occasion.
Swimming in the cold Danube, Avram faced many obstacles, including dams, whirlpools, eddies and unpredictable weather. To prepare, he worked out in the freezing waters of mountain rivers in Romania without a wetsuit for up to six hours a day. Due to the extreme nature of the conditions he faced, Avram's preparation was not only physical, but also psychological. On more than one occasion his body became exhausted, forcing Avram to rely solely on his positive disposition and sheer determination to complete his quest. Avram lovingly refers to his wife and three daughters as his 'best' coaches.
This was not Avram's first experience of the Danube, having previously completed a 45-km marathon between Gropeni-Brăila and Galați, in Romania. In August, 2016, he became the first Romanian to swim the English Channel, in a gruelling 18-hour swim.
European hemp processor Canah, which produces nutritional foods from organic and conventional hemp seeds in Romania, first sponsored Avram when he was preparing to swim the English Channel. The company was proud to continue as his major sponsor for the Danube challenge. Avram impressed Canah with his natural confidence and resourcefulness. The company is all about healthy living, combining traditional and modern processing techniques to promote the nutritional value of the humble hemp seed. "We were his sole sponsor when he crossed the English Channel in August 2016, and were excited to be continuing this relationship throughout his Danube adventure," said General Manager Daniela Sfrijia.
---
The Petrosani athlete, who is a librarian, came up with the idea of swimming on the Danube River after reading "the Danube Pilot" novel written by Jules Vernes
---
Dan Lazarescu, founder of Canah added "We recognise courage and determination when we see it, and as a keen swimmer myself I immediately understood the risks he was undertaking."
Besides extreme outdoor swimming, Avram also participates in other sports, including triathlon, mountain biking and mountain running. He is also the Romanian National Champion in Kyokushin Karate.
Avram was accompanied by a support crew, two of whom travelled in kayaks. On completing his epic journey he was full of praise for ICPDR, saying "I think the ICPDR is a great organisation because of its extensive activities in protecting the Danube and its interest with regard to my expedition. It's obvious that we share the same love for this great world river and I would like to take this opportunity to share my thanks for all their support."