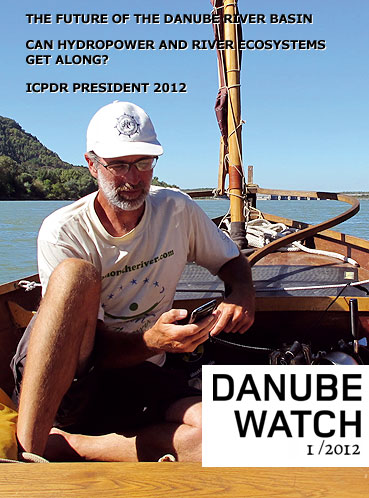 Owner/Publisher: ICPDR – International Commission for the
Protection of the Danube River, Vienna, icpdr@unvienna.org;
Executive Editor: Benedikt Mandl; Editor: Kirstie Shepherd;
Design: Agentur 7, Sylvia Kostenzer; Cover photo: Man on the river;
Print: Druckerei Janetschek, Vienna
Danube Watch is the official magazine of ICPDR, the International Commission for the Protection of the Danube River. Danube Watch enhances regional cooperation and information sharing on sustainable water management and environmental protection in the Danube River Basin. It reports on current issues affecting the Danube Basin, and on action taken to deal with challenges in the river basin. Striving for scientific accuracy while remaining concise, clear and readable, it is produced for the wide range of people who are actively involved in the Danube River Basin and are working for the improvement of its environment.
The ICPDR accepts no responsibility or liability whatsoever with regard to information or opinions of the authors of the articles in this issue.
| | |
| --- | --- |
| | For a free subscription to Danube Watch, or to contribute to Danube Watch, please contact icpdr@unvienna.org |
2011, the year of the Ukrainian presidency, was characterised by a dialogue between eastern and western initiatives that will shape and benefit the work of the ICPDR for many years to come.

Future wars may well be fought over scarce water resources, but in the Southern African Development Community that threat is disappearing through transboundary water cooperation.

Business Friends show corporate responsibility

Global energy needs are rising rapidly, as are greenhouse gas emissions from economic developments. Hydropower may seem an obvious choice for the provision of clean electricity, yet the negative...

Rivers cross political boundaries and bring diverse cultures together, providing an opportunity for cooperation and a shared commitment to protect natural resources. Countries in the Tisza...

A novel web-based geochemical and contamination map series for the Danube Basin supports contamination risk assessment and helps spread environmental communication.

ICPDR Danube Watch: ICPDR MEETINGS

Giacomo De Stefano is travelling 5200 kilometres from London to Istanbul, living 6 months on a row boat to build a new relationship with nature, water and rivers.

ICPDR Danube Watch: News and Events

In its continuing series, Danube Watch presents portraits of the leaders whose passion and commitment help determine the future of our river basin. In this issue we speak to ICPDR President for...

Eight Danube countries participated in a specialised course to learn methods of analysing biological quality elements that would be compliant with the EU Water Framework Directive. Sharing this...

The Danube region plays an important role in the EU's transport and energy infrastructure, and the EU Strategy for the Danube Region will combine those sectors with economic, environmental, social...

A recently completed survey of the Danube Delta region will significantly improve knowledge about water quality, the environment, current management of water resources and human activities in the...

Adaptation to environmental change is not a new concept; throughout history societies have shown a strong capacity for adapting to different climates and environmental changes. Nevertheless,...
Downloads