6th GEF Biennial International Waters Conference held in Dubrovnik
The "IWC6" Conference was held under the slogan "Raising the Bar: 20 Years of GEF Transboundary Water Results" and focused on knowledge sharing on water management issues and results after 20 years of interventions. The Conference also promoted public-private partnerships in support of better water management – all areas in which the ICPDR can look at significant experience.
There were sub-themes focusing on environmental finance (featuring a corporate and social responsibility roundtable with private sector companies), as well as considerations of the institutional and sectoral transformation.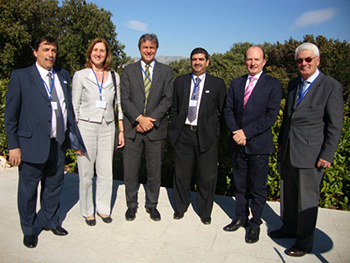 Representatives of South American river commissions with ES Philip Weller. President Mykola Melenevskyi and furture President Wolfgang Stalzer.
The IWC6 convened more than 300 participants, including GEF IW project managers, representatives of beneficiary countries, non-governmental organizations, transboundary management institutions, UN agencies and the private sector. The ICPDR was represented through the Executive Secretary, as well as other staff members of the secretariat. In addition, Coca Cola Hellenic and the Coca Cola Company presented the work done under the framework of the "Green Danube Partnership" with the ICPDR.
The IWC6 featured an innovation marketplace, extensive opportunities for focused learning on scientific and technical innovations, interactive training for IW project managers and country representatives, interaction with the GEF Secretariat, GEF agencies and several partner institutions working on International Waters projects.
The Conference also featured participant-directed workshops and round-table discussions, as well as offering the highly unique and unprecedented option of undertaking technical site visits to multiple GEF IW projects in a transboundary context around Dubrovnik, in some cases to the neighboring countries of Bosnia & Herzegovina and Montenegro.
Part of the Conference was dedicated to the celebration of the 20th Anniversary of GEF IW focal area. Although the main focus of the event was on the future of the Global Environment Facility and on the identification of future directions, participants were also able to showcase achievements and results from the IW project portfolio and their own activities since the creation of GEF in 1991.