NextGenerationEU: State of the Union Address Reveals New Green Funds for the EU
VIENNA, 17 September – At yesterday's State of the Union address, Ursula von der Leyen – President of the European Commission – outlined a vision for Europe to emerge stronger than ever from 2020's pandemic crisis. NextGenerationEU is a new kind of recovery plan; a once in a lifetime opportunity for change, with a focus on becoming green, digital and more resilient.
"37% of NextGenerationEU will be spent directly on our European Green Deal objectives," stated President von der Leyen at the European Parliament in Brussels. "I want NextGenerationEU to kickstart a European renovation wave and make our Union a leader in the circular economy."
The Next Generation EU recovery is going to be essential for the EU to each its target to cut emissions by 55%, first envisaged by the European Green Deal proposed by the commission back in December 2019.
The announcement this week re-emphasises the aims of the Green New Deal and other environmental aims of the European Union, which have already been the focus of various projects run in partnership with the ICPDR, funded by the EU's Danube Transnational Programme.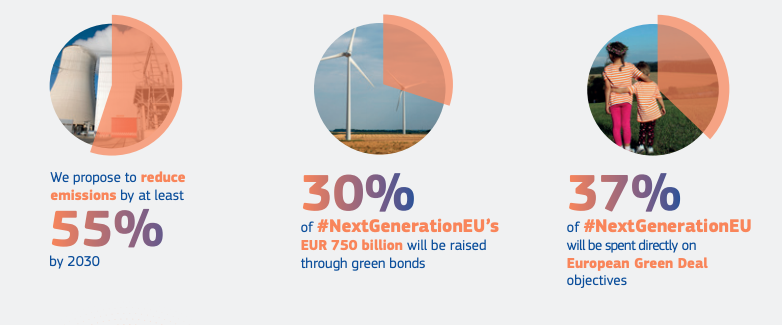 European Green Deal
So what are the European Green Deal's main initiatives and aims?
Legislative proposal on revision of the EU emission trading system (ETS)
Effort-Sharing Regulation
Revision of the Renewable Energy Directive, the Energy Efficiency Directive and the Directive on Energy Performance of Buildings
Revision of the Regulation on Greenhouse Gas Emissions and Removals from Land Use, Land Use Change and Forestry
Legislative proposal to address methane emissions in the energy sector, revision of the regulatory framework for competitive decarbonised gas markets and revision of the Energy Taxation Directive
Revision of the Directive on Intelligent Transport Systems and the Directive on Deployment of Alternative Fuels Infrastructure
Revision of the Regulation setting CO2 emission performance standards for cars and light commercial vehicles and legislative proposal on development of post-Euro6/VI emission standards for cars, vans, lorries and buses
Legislative proposal for a sustainable product policy initiative
"European Hydrogen Valleys"
"European Renovation Wave"
1 million electric charging points
The new "European Bauhaus" – a co-creation platform for architects, engineers and designers aiming to create greener architecture to push down emissions.
Links
"The future will be what we make it. And Europe will be what we want it to be."  – Ursula von der Leyen, President of the European Commission